A few quick thoughts on the 2016 Hunt & Harvest Picpoul from Rutherford in Napa Valley.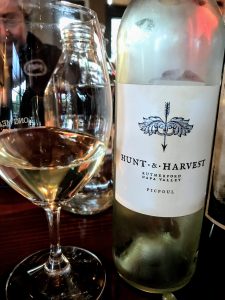 The Geekery
Hunt & Harvest is the new label of Chris Hall of Long Meadow Ranch fame. Along with Dan O'Brien (formerly of Larkmead and owner of Gail Wines in Sonoma), Hall created the label to produce varietal wines from various vineyards in Napa Valley.
In addition to the Picpoul, they also produce a Sangiovese, Sauvignon blanc and Cabernet Sauvignon from Napa as well as Rutherford designated Merlot & Cab. Additionally, they source Pinot noir from a Willamette Valley vineyard that is just outside the Dundee Hills AVA.
The Picpoul is 100% varietal from Rutherford that was aged in stainless steel.
The Wine
Medium-plus intensity nose. Was a smidge reductive under the screw cap but that quickly blew off to reveal white floral honeysuckle and green apple notes.
On the palate, the green apple carries through with some lemon citrus peel notes joining the party. Medium-plus acidity is lively. Not quite the lip-stinging of Languedoc examples, but very nervy.
There is a lot of texture to the medium-bodied mouthfeel that would have suggested neutral oak but that's obviously not the case. (Perhaps skin contact?) Long finish is mouthwatering and extremely floral.
The Verdict
While I've had a lot of great wine this week in the lion's den of Napa Cab country, few wines have made my heart soar as much as finding this bottle of Picpoul. And from Rutherford of all places!
Undoubtedly, Rutherford has some blessed terroir with a lot of history. But it's always seemed like an endless carpet of Cabernet Sauvignon with maybe a smattering of other Bordeaux varieties here and there. High price tags also trademark Rutherford, but at $25 this Hunt & Harvest Picpoul is a screaming good deal. Even paying restaurant mark-up of $55 I felt extremely pleased with the freshness, depth and vigor of this wine. Well worth seeking out.
Subscribe to Spitbucket