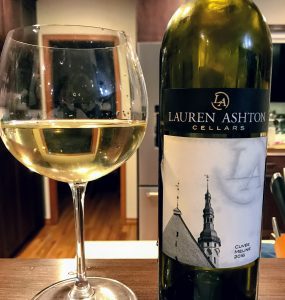 A few quick thoughts on the 2016 Lauren Ashton Cuvée Méline from the Columbia Valley.
The Geekery
Lauren Ashton Cellars was founded in 2009 by Kit Singh, a dentist by training, with the winery named after his two children. Full disclosure, Kit was one of my wine science instructors when I was going through the wine production program at the Northwest Wine Academy.
The labels for each of Lauren Ashton's wines feature notable architecture from Singh's wife, Riinu's, home country of Estonia.
The 2016 Cuvée Méline is a white Bordeaux-style blend of 55% Semillon and 45% Sauvignon blanc that was aged in a combination of stainless steel, new French and neutral oak barrels. The fruit source for this vintage was Mercer Estates in the Horse Heaven Hills and Cave B Vineyard in the Ancient Lakes of the Columbia Valley AVA. Around 300 cases were made.
The Wine
High intensity nose–lots of citrus zest and white floral notes like wisteria and lillies. Around the edges there is a little tree fruit trying to peak out but is overwhelmed by the citrus and floral notes.
On the palate those tree fruit notes come out more and become defined as very ripe white peaches with the citrus becoming more tropical like pomelo. The wine has a lot of weight and texture to the mouthfeel that hints at the oak but you don't taste any oak flavors. The medium-plus acidity keeps the fruit tasting fresh and balances the weight very well. Moderate length finish brings back the floral notes from the nose but they quickly fade.
The Verdict
It's clearly a New World style white with the big body and weight but there is a lot of white Bordeaux-like elegance with this wine. Only thing missing is minerality.
At $23-28, it is a solid value for a very well made and food-friendly white. Definitely a white wine for a red wine drinker that wants something different than a light Sauvignon blanc or an oaky Chardonnay.
Subscribe to Spitbucket