A few quick thoughts on the 2017 Ancestry Cellars Prosperita Pinot gris from the Columbia Valley.
The Geekery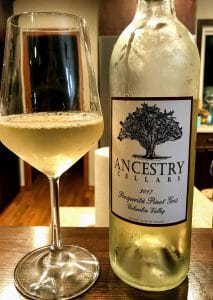 Ancestry Cellars was founded by Jason and Erin Moran in 2011. Full disclosure, like Michael Savage of Savage Grace, Jason is an alum of the Northwest Wine Academy and was in my wine production class.
The accolades for Ancestry came quickly after its founding with Sean Sullivan of the Washington Wine Report and Wine Enthusiast noting that Jason Morin particularly excels with his white wines.
With a tasting room in Manson, as well as in Woodinville, Ancestry Cellars has been focusing more on the developing Lake Chelan AVA. In addition to sourcing white grape varieties like Pinot gris and Chardonnay, Ancestry also produces a Malbec sourced from Dry Lake Vineyard in Manson.
The 2017 Prosperita Pinot gris is sourced from fruit from the Lake Chelan AVA and from Sagemoor Vineyards in the greater Columbia Valley AVA. The wine is 100% Pinot gris that was fermented and aged in stainless steel.
The Wine
High intensity nose of fresh white peaches and orange blossoms. In the background is a little pear note as well.
On the palate, that fresh white peach note comes through but the floral orange blossom notes gets more zesty and citrusy. Medium-plus acidity keeps the mouthfeel very lively and fresh but is amply balanced by the medium bodied weight of the fruit.
Dry but fruit forward. The acidity also adds a mouthwatering aspect that quickly makes you want to take another drink. Moderate length finish brings back some of the floral notes.
The Verdict
This wine tastes like Spring and is exceptionally well made. While some Northwest Pinot gris producers have a difficult time balancing the sense of fruitiness/sweetness with crisp acidity, this Ancestry Pinot gris hits those notes perfectly. The end result is a dry Pinot gris with ample weight and fruit.
For $12-15, this is a delicious white wine that is perfect for patio sipping as well as food pairing.
Subscribe to Spitbucket