Note: This wine was a sample during a press trip.
A few quick thoughts on the 2012 Lindstrom SLD Cabernet Sauvignon from Napa Valley.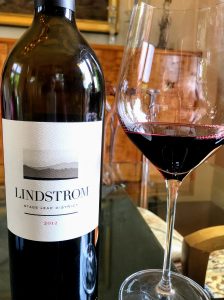 The Geekery
The tiny 4-acre Nicali Vineyard of Greg and Carol Lindstrom is literally above it all. Perched on a hilltop overlooking the vineyards of Shafer, Stag's Leap Wine Cellars, Odette and Joseph Phelps' SLD vineyard, the Lindstroms have some of the steepest slopes in the district. Because of this steepness, everything is done by hand with meager yields of sustainably farmed grapes.
Despite being 100% Cab, the uniqueness of the Lindstrom's vineyard gives them ample opportunity to make a complex and characterful wine. Taking a very Bordelais approach, the Lindstroms identified 11 distinct blocks with vastly different exposures and soil types. With vineyard manager Michael Wolf (of Araujo, Harlan, Duckhorn and Scarecrow fame), they matched each to specific rootstocks and clones.
Since 2005, winemaker Celia Welch (Scarecrow, D.R. Stephens, Staglin and Corra) harvests, ferments and ages the blocks separately to use as blending components. What doesn't make the cut goes to their second wine, Nicali, or is sold off. Each year only around 250-600 cases are produced.
The Wine
Medium-plus intensity nose. Lots of rich dark fruits–plums, cassis. But most intriguing is the melange of spices–anise, black pepper, clove, cinnamon.
On the palate, the dark fruit still leads the way with a very full-bodied mouthfeel. Medium-plus acidity keeps it fresh and with its high, ripe tannins suggest that this wine has a lot of aging potential. A little tertiary tobacco is starting to emerge but the long finish is very spice-driven–particularly with the black pepper and anise.
The Verdict
At around $131 (WS Ave), this is very much in line with its SLD peers. It probably should be closer to $150 as the new releases are.
While it's hard to find deals in Napa, this small family estate is definitely under the radar.
Subscribe to Spitbucket