Being in love with a techie, you're never far from the siren song of start-ups. In her long career, my wife is 0 for 3 following that tune. Still, the excitement of building things from the ground up and being part of something innovative keeps luring her back. That's why we found ourselves uprooting our lives and moving 5000 miles away from her cozy job at Google to a new start-up in France.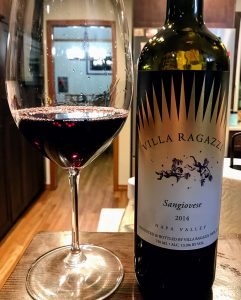 It takes a lot of nerve to set aside the doubts in your head to pursue what ignites your heart. That is a sentiment that Michaela Rodeno of Villa Ragazzi knows very well. As I learned more of Rodeno's story, I began to understand the fire that drives people like my wife and Michaela. These are folks that don't want to settle but, instead, want to see what more is possible.
Rather than take the easy road, the easy life, they embrace the challenges that come with forging your own path. Whether it's building three (!) wineries from scratch or being on the cutting edge of technology, it takes a lot of gumption to do what they do. And that's certainly worth raising a glass.
From Bubbles to Boardrooms
From Bubbles to Boardrooms is the title of Rodeno's book that is part biography and part primer for the fortitude that one needs to make their own opportunities happen. Rodeno gifted us a copy, but I very enthusiastically recommend the book to any wine lover–as well as lovers of books about kick-ass women.
Not only is it a great read full of fun stories about the early days of Domaine Chandon and St. Supéry, but Rodeno sprinkles throughout compelling tidbits about what it means to be a leader and trusting your own abilities.
The First of Many Firsts
A UC-Davis grad, Michaela Kane Rodeno moved to Napa Valley with her husband, Greg, in 1972. A lawyer, Greg followed the advice of friends that there was lots of legal work to be had in the burgeoning valley. Michaela found a job at Beaulieu Vineyard, becoming the first woman to serve as a tour guide at the historic winery.
A short time later, she noticed a newspaper article about a new California project by Moët & Chandon. This was the first significant investment in California by a major French winery and Michaela was intrigued. Armed with nothing but her French language degree and a whole lot of moxie, she drove up to the Mt. Veeder home of John Wright, the man tasked by Moët to head the project, offering her services. That day Michaela Rodeno became employee number two at what would become Domaine Chandon.
Changing the Game At Chandon
While building Domaine Chandon from the ground-up with John Wright, Rodeno had to tackle many winery start-up problems. Her solutions, which she developed over a 15-year career at Chandon, introduced many innovations to Napa Valley.
Back then, wineries often viewed restaurants and retailers as their main customers. Rodeno and Domaine Chandon steered the focus back to regular consumers with an emphasis on the tasting room experience, a direct-to-consumer newsletter and establishing the first wine club in the US, Club Chandon. To counter the higher excise tax on sparkling wine, Chandon also was the first to introduce tasting fees to winery visitors.
Noticing the lack of fine dining options in the valley, Rodeno worked with the Napa County council to get the zoning and permits to open up Étoile, which many give credit with launching the Napa Valley food-scene. That restaurant would go on to earn Michelin stars and global recognition before closing in 2014.
Taking the Next Step at St. Supéry
After rising to the position of Vice-President of Marketing at Domaine Chandon, the Skalli family tapped Michaela Rodeno in 1988 to be the first CEO of their new start-up in Rutherford, St. Supéry. The very first female CEO in Napa Valley, Rodeno would build another winery from scratch during a period of explosive growth in Napa.
In her 20+ yr tenure as CEO, Rodeno help developed the winery's vineyards in Rutherford and Pope Valley. A little unusual for Napa, St. Supéry focused heavily on Sauvignon blanc as a means of distinguishing itself from its numerous neighbors. She also made education a key component of the consumer experience at St. Supéry–introducing things like ampelography master classes, sensory tastings and blending events featuring all five red Bordeaux varieties.
Rodeno's efforts help grow St. Supéry into a 150,000 cases-per-year estate winery that was recognized by Wine & Spirits magazine as their Winery of the Year. Rodeno retired in 2009 to focus on her family's estate winery in Oakville, Villa Ragazzi.
Sangiovese in the Heart of Cab Country
Inspired by a visit with Piero Antinori in Tuscany, the Rodenos started Villa Ragazzi in 1985, planting a small vineyard in the sandy soils of the Pope Valley. Their planting of Sangiovese is believed to be the first commercial planting of Sangiovese in Napa Valley. The budwood came from an old Sonoma vineyard of mixed varieties that a family friend of the Rodenos introduced them to.
Villa Ragazzi's wine quickly distinguished itself from other domestic examples of Sangiovese with Jeff Cox describing it in his book, Cellaring Wine, as the "…one notable example [in California] that has the stuffing and structure of an Italian wine."
At the last State Dinner hosted by the Obamas, the 2012 Villa Ragazzi Sangiovese was served at the event honoring the Italian Prime Minister, Matteo Renzi, and his wife.
In 1998, phylloxera attacked the Pope Valley vineyard. The Rodenos were able to save some of the original budwood and commenced a long replanting program. They sold the Pope Valley vineyard (under the condition that they could still source fruit from there) in 2010 to focus on their Oakville estate plantings of Sangiovese and Cabernet Sauvignon.
The Rodeno Clone
The Sangiovese in the Pope Valley and estate vineyard in Oakville adapted to its terroir, developing distinct characteristics. It is now recognized as its own clone with budwood being propagated by UC-Davis.
Among the unique characteristics of the Rodeno clone is its natural propensity for low yields of small clusters with tiny berries. Most vintages, the harvest is around 1 to 2 tons an acre with a typical output being about 50 to 75 cases. Usually winemakers expect 1 to 2 tons of grapes to produce around 63 to 126 cases.
Over the years, other winemakers and wineries have experimented with the Rodeno (also spelled Rodino) clone including Randall Grahm of Bonny Doon, Silverado Vineyards at their Soda Creek Ranch vineyard, Araujo, Long Meadow Ranch, Krupp Brothers, Fess Parker, Foxen and Gargiulo Vineyard.
Villa Ragazzi's Oakville Estate
Villa Ragazzi's 22 acres of sustainably farmed grapes is in an envious spot in Oakville. Just east of Opus One, their next-door neighbors are Groth and Saddleback. A stone's throw away is the vines of Swanson, Flora Springs and O'Shaughnessy.
Coming full circle from the Rodenos' original inspiration, Villa Ragazzi's wines are made at Piero Antinori's Atlas Peak property, Antica.
The current winemaker is the legendary Robert Pepi who follows an excellent list of predecessors including Charles Thomas (Opus One, Cardinale, Rudd, Lokoya), Celia Welch (Scarecrow, Staglin, Corra), Nate Weiss (Antica, Silver Oak) and Melissa Apter (Antica, Metzker).
The Wines
Note: These wines were received as samples.
2018 Rosato di Sangiovese, Oakville (47 cases made) Suggested Retail $28
High-intensity nose. Fresh strawberries and red floral notes with a little blood orange citrus aromatics.
On the palate, the strawberries and blood orange notes carry through with mouthwatering medium-plus acidity. Bone-dry with medium body fruit. Very well-balanced given its low 11.4% alcohol. The moderate finish lingers on the strawberries but also introduces a subtle floral herbal note like rosemary. Very scrumptious and the best rosé that I've had so far this year.
2014 Sangiovese, Napa Valley (195 cases) Suggested Retail $42
Medium intensity nose. A mix of red fruits (cherries and cranberries) with savory herbal and spice notes.
On the palate, the high acidity amplifies the red fruit and defines the herbs and spice as being clove and thyme. The full-bodied weight is more significant than what I usually associate with Tuscan Sangiovese, but the balance of acidity keeps it from being jammy. Medium-plus tannins have a velvet edge that contributes to the balance. The long finish is mouthwatering with the fruit and adds some pepper spice. Would go exceptionally well with a lot of different food dishes.
2014 Faraona, Napa Valley (55 cases) Suggested Retail $54. A blend of 75% Sangiovese and 25% Cabernet Sauvignon
Medium-plus intensity nose. Lots of dark fruits–black currants and black plums. Moderate oak notes like vanilla and cedar. Overall this smells very Cab-like.
On the palate, those full-bodied Cab-dominant fruits carry through, but a little cherry emerges. Firm, high tannins give this wine a lot of grip and, with the medium-plus acidity, suggest that it has a fair amount of aging still ahead. Long finish plays up the Cab notes with some tobacco joining the black fruits.
2015 Faraona, Napa Valley (42 cases) Suggested Retail $54. A blend of 90% Sangiovese and 10% Cabernet Sauvignon
Medium-plus intensity nose. Much more red fruit character than the 2014 Faraona–cherries and red plums. A subtle smokiness adds a savory element to the herbal notes–like roasted thyme and rosemary.
On the palate, the youthful red fruit take center stage. Medium-plus acidity and ripe, medium-plus tannins hold the full-bodied weight of the fruit very well. Some oak flavors of vanilla and allspice emerge but are less pronounced than the 2014. Moderate finish is lip-smacking with savory herbs returning — definitely my favorite of the two vintages of Faraona.
The Verdict
In many ways, Villa Ragazzi feels like an "Insider's Wine" that is actually attainable in price. With their minuscule production of fewer than 300 cases a year, so few people will get a chance to try these wines. Even less get a chance to try these wines at their peak.
Some of that scarcity does play into the pricing. In the US, it is easy to walk into any decent wine shop and find tons of Italian Sangiovese and Super Tuscan blends for less. But let's put this into context.
It wouldn't be fair to compare Villa Ragazzi's wines to massed produced Chiantis like Ruffino's Ducale Oro ($41 with 32,500 cases made) or Gabbiano Chianti Classico Riserva ($22 with 13,900 cases made).
A fairer comparison would be wines made in a more age-worthy style like Isole e Olena's Cepparello ($90 with 3700 cases made), Felsina's Fontalloro ($65 with 2500 cases made), Tenuta Sette Ponti's Crognolo ($40 with 7500 cases made) and Terrabianca's Campaccio ($36 with 8000 cases made).
Some of these wines are less in price than Villa Ragazzi's Sangiovese and Faraona. However, none of these come close to such a tiny production. You are also not finding them coming from Napa's pricey terroir. With their prime Oakville real estate, the Rodenos could turn their entire property over to Cabernet Sauvignon that would certainly fetch much higher prices–especially for a 300 case micro-cuvee.
The fact that they don't is a testament to Michaela Rodeno's long history of forging her own path.
The Rodenos could have taken the easy way, selling their land or cranking out more $100+ Napa Cabs. Instead, they followed their passions to innovate and do something different.
It's that same passion that leads so many people, like my wife, to leave the comforts of a cozy job to dive headfirst into the uncertain, but exciting, world of start-ups. It is also the passion that makes the best stories in wine.
As well as in life.
Subscribe to Spitbucket