A few quick thoughts on the 2004 Nicolas Joly Clos de la Coulée de Serrant.
The Geekery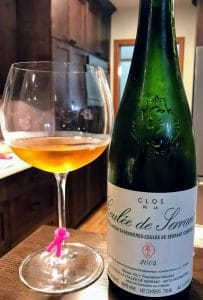 Hugh Johnson describes Nicolas Joly in his Wine Companion as one of the "high priest" of Biodynamics and says he was the first French vigneron to apply Rudolf Steiner's principles to grape growing.
Located in the Anjou region of the Loire Valley, Savennières is noted for dry 100% Chenin blanc wines that are often distinctly different from the better known Vouvray wines of Touraine.
Along with Château-Grillet and Romanée Conti, the 17 acre vineyard of Coulée de Serrant is one of three estates to have their own AOCs. First planted by Cistercian monks in 1130, the vineyard has nearly 900 years of winemaking history. Owned by the Joly family since 1959, the average age of the vines are 35-80 years.
The wine is harvested late in multiple passes through the vineyard over 3-4 weeks. It is then fermented in neutral wood with native yeasts–allowing the fermentation itself to regulate the temperature. This can often take 2 to 4 months for the wine to get to complete dryness. Around 2,000 cases a year are made.
The Wine
The color looks like an aged Sauternes or an orange wine but the high intensity nose isn't sweet or oxidized. Instead it is very floral with honeysuckle and apple blossoms as well as some spicy ginger. Underneath there is a little straw hay and subtle orange citrus notes.
On the palate the wine has incredible weight with an oiliness and some tannin texture to the mouthfeel. Lots of rocky minerality that is amplified by the still fresh and vibrant high acidity. The orange notes come through and bring an apricot note that aren't quite dried but aren't fresh as well. Long finish brings back the spicy ginger.
The Verdict
Stunningly beautiful for a 13+ year white wine that probably has the legs to go on for several more years.
At $90-110, there is certainly a premium for this wine but the character and complexity is off the charts.
Subscribe to Spitbucket