Welcome to the third installment of my Keeping up with the Joneses in Burgundy series where I try to untangle the relationships between the many different Burgundy estates that share the same surname.
Click here for previous editions about the Boillot and Morey families.
My tools for this journey will include internet sleuthing as well as:
Remington Norman and Charles Taylor's The Great Domaines of Burgundy
Clive Coates' The Wines of Burgundy
Matt Kramer's Making Sense of Burgundy
Bill Nanson's The Finest Wines of Burgundy
Benjamin Lewin's Burgundy (Guides to Wines and Top Vineyards) (new book)
The Gros Family
Alphonse Gros, the patriarch of the Gros winemaking family was born in 1804 in the village of Chaux located just north of Nuits-Saint-George. In 1830, he married Julie Latour of the notable Latour family and settled in the village of Vosne-Romanée. In 1860, Alphonse purchased what would become Clos des Réas–a premier cru vineyard that is currently a monopole of Alphonse's descendant Michel Gros.
Alphonse and Julie had two children with their son Louis Gustave taking over the family's estate and changing the name to Domaine Gros-Guenaud to include his wife's holdings. In 1882, he added 2 hectares (5 acres) of the Grand Cru Richebourg. During his time, Louis Gustave was an early adopter of domaine bottling for at least a portion of his production.
On his death, the estate passed to his son, Jules Gros, who married Jeanne Renaudot and changed the name of the family domaine to Gros-Renaudot. In 1920, when the estate of Léonce Bocquet was available for sale, Domaine Gros-Renaudot purchased two parcels of Clos Vougeot in the enviable
"Cuvée du Pape" section
of the large Grand Cru. A few years later the estate was able to acquire parts of the Grand Cru Échézeaux, including the highly regarded Les Grands Échézeaux.
When Jules and Jeanne's son Louis inherited the estate in 1930, he changed the name to Domaine Louis Gros and continued to add to the family's holdings.
Following the death of Louis Gros in 1951, his four children (François, Jean, Gustave and Colette) jointly ran the domaine until 1963 when the holdings were split up with François and Jean starting their own eponymous domaines while Gustave and Colette combined their inheritance to start Domaine Gros Frère et Soeur.
Today the many Gros estates are ran by the sixth generation of Gros–Anne (François' daughter), Michel (Jean's son), Anne-Françoise (Jean's daughter) and Bernard (Jean's son). At estates like Domaine Gros Frère et Soeur and Domaine Anne-Françoise Gros, the seventh generation of the Gros family are taking on prominent roles in the family business.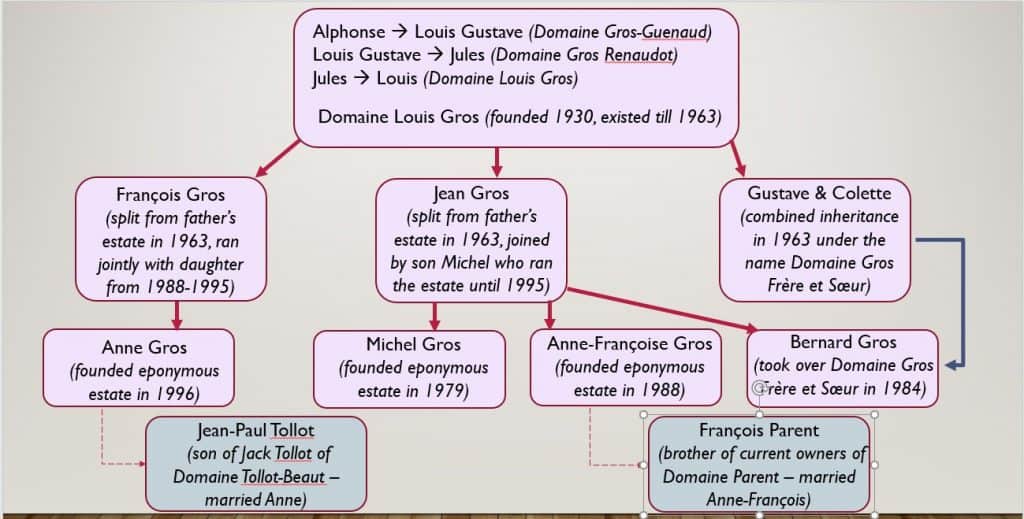 Current Gros Estates
Domaine Anne Gros (Vosne-Romanée) founded in 1996. By 1978, heath problems had caused François Gros to cut back with nearly all the estate's production being sold to negociants. In 1988, Anne joined her father and renamed the estate Domaine Anne & François Gros with the focus returning to estate bottling. In 1995, the last vintage of Domaine Anne & François Gros was produced as Anne assumed complete control of the estate, changing the name to its current incarnation. She is married to Jean-Paul Tollot, son of Jack Tollot of Domaine Tollot-Beaut in Chorey-Lès-Beaune.
Prime holdings: Clos Vougeot Grand Cru (0.93 ha) , Échézeaux Grand Cru (0.76 ha) and Richebourg Grand Cru (0.60 ha).
Domaine Gros Frère et Soeur (Vosne-Romanée) founded in 1963 by brother and sister Gustave and Colette Gros. In 1980 they were joined by their nephew Bernard (son of Jean Gros and brother to Michel and Anne-Françoise) who took over the estate completely in 1984 when Gustave died. The estate is currently being ran by Bernard and his son Vincent.
Prime holdings: Clos Vougeot Grand Cru (1.56 ha) of the Clos Vougeot-Musigni climat at the top of the vineyard–just beneath the Musigny slope, Les Grands Échézeaux Grand Cru (0.37 ha) and Richebourg Grand Cru (0.69 ha).
Domaine Michel Gros
(Vosne-Romanée) founded in 1979. Even after starting his own estate, Michel worked closely with his father to run Domaine Jean Gros until Jean's retirement in 1995. Today, Michel is the only member of the current generation of the family to not own a piece of Richebourg but instead inherited the entire monopole of the Vosne-Romanée 1er Cru Clos des Réas.
Prime holdings: Clos Vougeot Grand Cru (0.20 ha), Vosne-Romanée 1er Cru Aux Brulées (0.63 ha) and the monopole Vosne-Romanée 1er Cru Clos des Réas (2.12 ha).
Domaine Anne-Françoise Gros (Pommard) founded in 1988. While Anne-Françoise merged several of her holdings with those of her husband, François Parent–brother of the owners of his family's estate Domaine Parent, her parcel of Richebourg is still bottled under her name as A-F Gros. Today the estate is ran by their children, Caroline and Mathias.
Prime holdings: Échézeaux Grand Cru (0.28 ha), Richebourg Grand Cru (0.60 ha) and from the Parent holdings–Pommard 1er Cru Les Arvelets (0.31 ha)
Additional Keeping up with the Joneses in Burgundy
The Boillot Familly
The Morey Family
The Coche Family
The Leflaive Family
Subscribe to Spitbucket