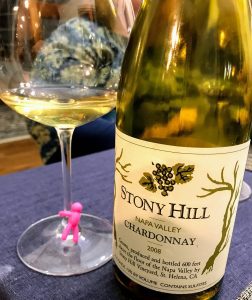 The First of September kicks off California Wine Month and while I won't steer this blog as much towards a California-centric bent as I did with Washington Wine Month (hometown bias, y'all), I will be highlighting California wines throughout the month in various posts and my 60 Second Wine Reviews.
However, I also have posts in the pipeline that you can expect to see soon for a new edition of Keeping up with the Joneses in Burgundy as well as a wrap up of my ongoing series on the 2017 Bordeaux Futures campaign (had to give my wallet a bit of a break). Later this month I'm teaching a class on Italian wine so you can be sure to expect a sprinkling of Mambo Italiano here and there.
Subscribers can stay on top of the geekery with new posts emailed right to their inbox.
But let's turn the focus back to California beginning with the most memorable California wine that I've had in the past year–the 2008 Stony Hill Chardonnay.
I had the privilege of trying this 2008 Stony Hill Chardonnay courtesy of a dear friend who brought this wine over for dinner this past Thanksgiving. That night featured a lot of heavy hitters including a 2004 Nicolas Joly Coulée de Serrant, a 2006 Philipponnat Grand Blanc Brut, a 2006 Hospice de Beaune Volnay Premier Cru Cuvée Blondeau, 2012 Domaine de la Vougeraie Vougeot 1er Cru "Le Clos Blanc de Vougeot" Monopole, 2007 Copain Gary's Syrah from the Santa Lucia Highlands and a 2010 Sichel Sauternes but this Napa Chardonnay was my run-away wine of the night.
The Background
Stony Hill Vineyard was founded in 1948 when Fred and Eleanor McCrea, inspired by their love for white Burgundy, planted their first 6 acres of Chardonnay along with some Riesling and Pinot blanc on the old Timothy Feeley homestead located on Spring Mountain. Charles Sullivan notes in Napa Wine: A History from Mission Days to Present that the McCreas sourced the budwood for their Chardonnay from the Wente family in the Livermore Valley.
The first vintage followed in 1952 and, by 1954, Stony Hill's small production was being completely allocated through mailing list. According to Thomas Pinney, in his
A History of Wine in America
, by 1990 someone wishing to get their hands on Stony Hill wine had to wait at least 4 years on a waiting list for the privilege.
In 1972, Mike Chelini joined Fred McCrea as winemaker, assuming the job full-time on Fred's passing in 1977. By 2011, Chelini, along with Bill Sorenson of Burgess, was one of the longest tenured winemakers in Napa Valley with the upcoming 2018 vintage being Chelini's 45th harvest.
During this period Stony Hill developed a reputation for producing some of Napa's most ageworthy Chardonnays with a lean, acid driven style that bucked the trend of buttery, malo-laden Chardonnays that were adorned in lavish new oak.
In his New California Wine, Matt Kramer describes Stony Hill Chardonnay as "… the essence of what California Chardonnay can be: pure, free of oakiness, filled with savor, and yet somehow unpretentious. It is rewarding, even exciting drinking–if you can find it."
The task of finding Stony Hill has always been tough with the winery's tiny 5000 case production but also because of the economics and realities of the wine business in the 21st century. Even when Stony Hill's mailing list shrank, allowing more wine to be available on the retail market, the McCreas found that many large distributors which control the three-tier system didn't care to pay attention to a small family winery–even one with such a stout pedigree.
Plus the counter fashion style of Stony Hill's wines, which often requires patience and cellaring, as well as the
"too cheap for Napa" pricing
put the McCrea family in a position where they were looking to sell and in late August 2018 it was announced that
Stony Hill Vineyard was being sold
to the Hall Family of neighboring Long Meadow Ranch.
Long Meadow Ranch
In my recent post Tracking the Tastemakers which examined Wine Enthusiast's "Top 40 Under 40 Tastemakers for 2018" I expressed my admiration for the wines of Long Meadow Ranch that are now headed by COO Chris Hall.
Long Meadow Ranch has been one of my favorite Napa estates for a while. Such an under the radar gem with a great winemaking pedigree that began with the legendary Cathy Corison and now features Ashley Heisey (previously of Far Niente and Opus One), Stéphane Vivier (previously of Domaine de la Romanee-Conti's owners' California project–Hyde de Villaine) and Justin Carr (previously of Cakebread, Rudd and Hourglass). — Tracking the Tastemakers (August 30th, 2018)
Above and beyond Long Meadow Ranch's fantastic wines and winemaking pedigree is the Hall family's deep seated commitment to the environment and sustainability. Pam Strayer of
Organic Wines Uncorked
has
a terrific write up
on how Long Meadow Ranch is showing how a winery in Napa can thrive with an organic business model.
Founded in 1989 with their Mayacamas Estate, the Halls now tend to over 2000 acres of vineyards and agriculture lands that includes olive trees, fruit orchards, vegetable gardens and even cattle that supplies ingredients for their farm-to-table restaurant, Farmstead.
The Wine
High intensity nose–an intoxicating mix of grilled pears and peaches with a little bit of white pepper spice. A very savory nose.
On the palate those grilled fruits come through. Even though they are couched with some subtle smokiness, the fact that the fruit is still present and distinctive is impressive for an 8 yr+ domestic Chardonnay. That is surely helped by the medium-plus acidity which holds up the medium weight of the fruit and keeps the mouth watering. Instead of white pepper, the wine takes on a more minerally river stone note that lingers through the long finish.
The Verdict
Just superb. Reviewing my notes after enjoying this wine during Thanksgiving, I was marveling at how youthful and fresh this wine was tasting. If you are lucky enough to have a bottle, you can probably still savor it easily for another 3 to 5 years–and I may be too conservative in that estimate.
While I'm not immune to the occasional indulgence and siren song of a butter-bomb like Rombaurer or Robert Lloyd's sinfully delicious Carneros Chardonnay, neither of those wines could ever come close to the layers of elegance and complexity that this 2008 Stony Hill Chardonnay exhibits. This wine is truly on another level when it comes to domestic Chardonnays with its peers being found more in Burgundy than in Napa Valley.
This is a wine that combines the savoriness of a well aged Meursault with some of the mouthwatering acidity of a Chablis. At around $50 according to Wine Searcher, this wine is a screaming value compared to aged Burgundies of equivalent quality.
Ultimately, I have to fully echo Matt Kramer's endorsement that tasting an aged Stony Hill Chardonnay "… is rewarding, even exciting drinking–if you can find it."
Subscribe to Spitbucket