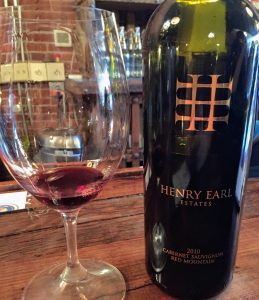 A few quick thoughts on the 2010 Henry Earl Red Mountain Cabernet Sauvignon.
The Geekery
Henry Earl is owned by Washington grape growers Dick & Wendy Shaw with the estate named after their two fathers, Henry Shaw and Earl West. Paul Gregutt in Washington Wines and Wineries notes that the Shaws are one of the largest vineyard holders in the Wahluke Slope with 464 acres.
On Red Mountain, they have almost 52 acres with their North Vineyard as well as joint ownership of 313 acre Quintessence Vineyard with Paul Kaltinick and 26 acre Obelisco Vineyard with Kaltnick and the Long Family.
Among the many wineries that the Shaws sell fruit to include: Duckhorn's Canvasback, Col Solare, DeLille, Fidelitas, Guardian Cellars, Januik and Mark Ryan Winery.
With Jack Jones, the Shaws started J & S Crushing and the Columbia River's Edge Winery, a custom crush facility for clients like Ste. Michelle Wine Estates. In 2014, they launched Henry Earl and acquired Russell Creek Winery in Walla Walla.
Victor Palencia, one of Wine Enthusiast's Top 40 under 40 Tastemakers, is the winemaker for Henry Earl. In addition to his work with Henry Earl, Palencia also does the winemaking for Jones of Washington and his own Palencia Winery.
The Wine
Medium intensity nose. Dark fruits like blackberry and black plum with noticeable oak spice of clove and cinnamon.
On the palate, the dark fruits come through but are less defined than they were on the nose. The oak really dominants with vanilla joining the spices from the nose. Medium-plus acidity and medium tannins give a rugged structure that needed just a bit more fruit to balance it.
The Verdict
I think this wine is probably a year or 2 past its prime. It's not drinking badly but it's not offering as much pleasure as you would expect from something around $40-45.
With the fruit fading, it is mostly the acidity and oak running the show and, for me at least, that not very compelling.
Subscribe to Spitbucket