A few thoughts on the Restaurant Crystal Clean: Professional Wine Glass Cleaning Liquid by The Mill River Company.
Product Specs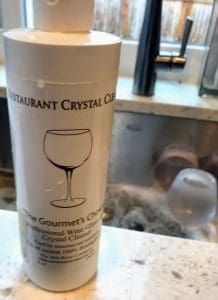 Made from all natural plant-derived ingredients that are 100% biodegradable, the bottle notes that the cleaner is also hypoallergenic and has not been tested on animals.
The Mill River Company's website claims that it is used by over 200 wineries including Ridge, Clos du Val, Gary Farrell, Pina Vineyards, Caymus, Araujo Estate, Bonny Doon, Jordan, Ovid (do they even have a tasting room?) and numerous restaurants and wine bars.
A 16 oz bottle runs about $28 dollars on Amazon. It claims that because it's "ultra concentrated", it is more cost effective than other cleaners with one bottle able to clean 2200+ glasses at the cost of less than 1 penny per glass.
How to Use
The directions say that it can be used as a rinse aid in dishwashers but I don't trust my dishwasher with my wine glasses so I explored the hand wash option.
The instruction said to squirt a drop in a glass, wash with a soft sponge or cotton scrubber and rinse with hot water. One drop did get it nice and soapy but after the rinse with hot water, I had water spots and streaks that I needed to polish off.
I tried it with cold water and while it looked cleaner at first, after the glass dried I had fewer streaks but I still needed to get the polishing rag out.
The bottle gave instructions on how to make a squirt bottle glass cleaner by mixing 1.5 oz into a gallon of cold water. I decided to try that ratio in my sink and let the glasses soak in the solution before cleaning them and rinsing in cold water. That turned out to be the winning recipe as the glasses came out brilliantly perfect.
The Verdict
I suspect that the laundry list of wineries, restaurants and wine bars that are using Restaurant Crystal Clean are using it as a rinse aid with an industrial dishwasher designed for wine glasses and it probably works really well.
While I am pleased with the results after soaking the glasses in the cold water solution, I'm very skeptical that I'm going to get 2200+ glasses worth of cleaning from the 16 oz bottle. Perhaps doing the one drop per glass and letting it soak in cold water will get me more mileage but I suspect that I will end up experimenting more with the soaking trick but with a scaled down ratio from the 1.5 oz/gallon.
However, after hosting a few wine tasting parties where I had a couple dozen dirty glasses and a few decanters that needed to be clean, the sink trick worked really well. The glasses do come out spotless and streak free with no traces of soap or odor. It may work out more realistically to costing 5-10 cents per glass but that is, for me, an acceptable cost to have perfectly cleaned wine glasses.
Subscribe to Spitbucket