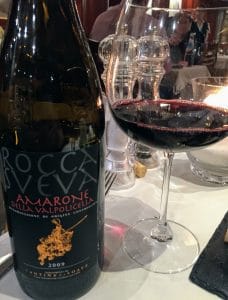 A few quick thoughts on the 2009 Cantina di Soave Rocca Sveva Amarone della Valpolicella.
The Geekery
Founded in 1898, Cantina di Soave is a co-operative with more than 2200 farmers.
With over 14,800 acres of vineyards under the co-op's control, Cantina di Soave controls nearly 70% of all the vineyards in the sparkling wine producing Lessini Durello DOC, 43% of Soave Classico, 48% in the greater Soave DOCG and 49% of all the vineyards in Valpolicella. All together, around 70% of the vineyards managed by the co-op qualify for DOC or DOCG standing.
In 2017, the total value of the wine grapes under control of the Cantina was over 100 million USD (€81m).
For the Rocca Sveva Amarone, the vineyards are planted in calcareous soils around the villages of Cazzano di Tramigna, Illasi and Val di Mezzane. The vines are trained in the traditional Pergola Veronese (or tendone) system. After harvest, the grapes spend 3 months drying on racks in a specially designed room. During this time the grapes lose up to 60% of their water content. After a long, cool fermentation that can take up to 30 days, the wine spends 2 years aging in oak barrels before bottling and then an additional year aging in bottle before release.
The typical blend for the Rocca Sveva Amarone is 70% Corvina, 25% Rondinella and 5% Molinara.
The Wine
Medium intensity nose. Black fruits–cherry, plum, blackberry–and a little pipe tobacco spice. With some air, black licorice and raisin notes come out.
On the palate, the black fruits carry but aren't as defined as they were on the nose. The medium acidity keeps some freshness but needs more to balance the full-bodied weight of the dark fruit. Medium-plus tannins help maintain the structure and are rather velvety at this point in its development. Fairly short finish with some spice.
The Verdict
This is definitely a more fruit-forward "modernist" style Amarone with only a little earthiness and spice.
At around $45-55, it is decent but doesn't really offer me the complexity and depth I crave at that price point.
Subscribe to Spitbucket