A few quick thoughts on the 2007 Vilmart & Cie Coeur de Cuvee Champagne.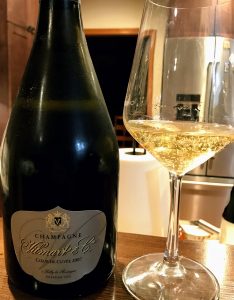 The Geekery
Laurent Champs is the 5th generation vigneron running his family's estate in the premier cru village of Rilly-la-Montagne in the Montagne de Reims. Despite this region being world-renown for Pinot noir, the 11 ha (27 acres) of Vilmart are majority Chardonnay.
While his father, René, experimented with biodynamics, Laurent practices sustainable and organic viticulture with AMPELOS certification.
The Coeur de Cuvee is 80% Chardonnay and 20% Pinot noir sourced from a single parcel of 55+ year-old vines. Vilmart uses only the first 14 hl of pressing (the "coeur/heart") instead of the full 20.5 hl allowed. The vin clair is aged in white Burgundy barrels for ten months with no malolactic fermentation taking place.
The wine then spends six years aging on the lees before being disgorged with a 7-9 g/l dosage. For the 2007, only 150 cases were imported into the US.
The Wine
High-intensity nose–lots of apple pastry and vanilla notes with racy citrus peel. A little air lets a white floral note come out that's a mix of lilies and acacia.
On the palate, those pastry notes come through and are very creamy with an almond marzipan note. Noticeable oak spice is also present, but it complements the spice pear that emerges adding another layer of depth. Very full-bodied mouthfeel but ample acidity keeps it balanced and fresh. Long finish ends with the oak spice and the creamy marzipan.
The Verdict
This is a bloody gorgeous Champagne that is worth every penny as a prestige cuvee in the $140-150 range. Truthfully, it blows many more expensive bottles out of the water.
However, I do suspect with the strong lingering oak notes–even after 10+ years in the bottle–that younger vintages (like their current 2011 release) will be more overtly oaky. While this 2007 was in a beautiful spot right now, this may be a Champagne worth focusing more on older vintages.
Subscribe to Spitbucket