A few quick thoughts on the 2011 Lynch-Bages from Pauillac.
The Geekery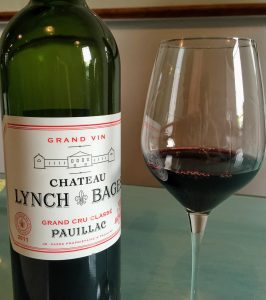 For more in-depth Geekery about Lynch-Bages see my write up for their the 2017 future offer.
Compared to the near perfect vintages of 2009 and 2010, the 2011 vintage started off well with a dry and warm spring. A wet, rainy July threw a curve ball with things not quite getting back on track till September when harvest saw dry weather and warm temperatures. At Lynch-Bages, only around 66% of the harvest (from 90 ha/222.4 acres) made its way to the Grand Vin.
The 2011 vintage is a blend of 72% Cabernet Sauvignon, 23% Merlot, 3% Cabernet Franc and 2% Petit Verdot.
The wine was aged for 15 months in 65% new French oak.
The Wine
Medium intensity nose. Dark fruits with blackberry and blackcurrants. With air some cured tobacco spice pops out but overall this wine is rather quiet.
On the palate the flavors get a little richer but nothing close to jammy or dense. The high tannins and medium-plus acidity hold the medium-plus fruit well but contributes to a thin taste. The tobacco spice from the nose gets more pronounced and brings black licorice and espresso coffee character as well. Moderate length finish ends on the dark fruit and testifies to its youth.
The Verdict
I suspect that this 2011 Lynch-Bages is still at least 2-3 years from hitting its stride but the thinness of the mouthfeel makes me wonder how much it will still improve. The firm tannins will soften but the fruit is going to fade rather than grow in prominence. However, seeing the spice notes from the nose developing and becoming more complex on the palate is always a good sign.
Right now the 2011 average $124 a bottle. Compared to 2010 ($224) and 2009 ($198) there is some value here but nothing worth beating down the door to get.
Personally, I would be looking more to the 2012 ($119) and 2014 ($121) for value or the vastly superior 2015 vintage ($143) for the better wine at just a little bit more.
Subscribe to Spitbucket