Some quick thoughts on the Deligeroy Cremant de Loire Brut.
The Geekery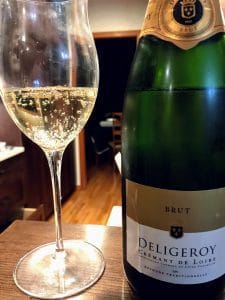 Produced by the co-op of Cave des Vignerons de Saumur that was founded by 40 growers in 1956. Today, the co-op includes 160 growers based around the village of Saumur in the Loire Valley. The co-operative practices sustainable viticulture and has Master of Wine Sam Harrop as a consultant.
The wine is a blend of 65% Chenin blanc, 20% Chardonnay and 15% Cabernet Franc sourced from vines that average in age between 20-30 years. Like all Cremants, the wine was made in the traditional Champagne method of sparkling wine production with the Deligeroy Brut spending 12 months aging on the lees prior to being disgorged.
The Wine
Medium plus intensity nose with lots of tree fruit (pear and apples) and white flower notes. There is also a sharp edge of Asian spices like ginger and lemongrass.
The palate is very lively with the spice notes (particularly ginger) being more pronounced and adding to a sense of minerality. There is also a little bit of toastiness that give the pear tree fruit flavors a more pastry tart element. Even with the racy acidity and minerality, the mousse is smooth with enough weight to balance the crispness. While I couldn't find an exact dosage, my best guess is that it is in the 6-8 g/l range.
The Verdict
This is definitely one for fans of drier and mineral driven bubbles. It's a very pleasant and character-driven cremant that offers a great deal of value in the $15-18 range.
Even if this was in the $20-25 range, I would certainly still be quite pleased with the complexity it's offering.
Subscribe to Spitbucket