Some quick thoughts on the Heidsieck & Co Monopole 'Blue Top' NV Brut.
The Geekery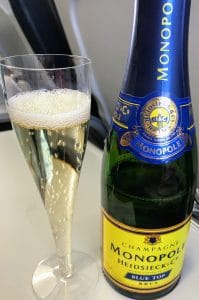 Heidsieck & Co is one of three Heidsieck brands of Champagne that can trace its origins to the 18th century German trader Florens-Louis Heidsieck. Founded in 1785, disagreements among Heidsieck's heirs lead Christian Heidsieck, Florens-Louis' nephew, to break away to start his own company in 1834 that eventually became Piper-Heidsieck. A little later, Charles Camille Heidsieck, a great-nephew of Florens-Louis, started Champagne Charles Heidsieck in 1851.
Heidsieck & Co Monopole changed ownership numerous times throughout the years. Today it is owned by Vranken-Pommery as part of a portfolio of brands that include Champagne Vranken, Champagne Pommery and Champagne Charles Lafitte.
Despite having "Monopole" in its name, Heidsieck is a négociant brand sourcing its grapes from the 34,000 hectares of shared Vranken-Pommery vineyards with an additional 2000 hectares of contract grapes.
According to Christie's World Encyclopedia of Champagne & Sparkling Wine, the NV Blue Top Brut is usually a blend of 70% Pinot noir, 20% Chardonnay and 10% Pinot Meunier. I could not find information on dosage or time spent aging on the lees.
The Wine
Medium intensity nose. Lots of tree fruits like fresh cut apples and white peach. There is a little pastry toast but its subtle like a Pillsbury toaster strudel.
On the palate, it's noticeably sweet so it's probably has 11-12 g/l dosage. The apple notes come through the most, tasting like very ripe honey crisp apples. Creamy mouthfeel with some lingering floral notes on the finish that add a little bit of complexity.
The Verdict
A pleasant and easy drinking Champagne that's essentially a less toasty version of Veuve Clicquot. Considering that the Heidsieck & Co Monopole 'Blue Top' NV Brut is in the $33-37 range while the Veuve Yellow Label is usually in the $42-50 range, the Blue Top is an undoubtedly better value.
Subscribe to Spitbucket