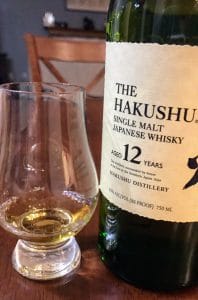 Some quick thoughts on the Hakushu 12 Single Malt Whiskey.
The Geekery
According to Dave Broom's The World Atlas of Whisky, Hakushu was built in 1973 in the Japanese Southern Alps among the forests that surround Mt. Kaikomagatake.
The distillery is owned by Beam Suntory where it is part of a portfolio that includes the Japanese whiskey brands of Hibiki and Yamazaki as well as Jim Beam, Maker's Mark and Knob Creek bourbon, Bowmore and Laphroaig Scotches and Courvoisier cognac among many other liquor brands.
Additionally, Suntory owns the management rights to the 3rd Growth St. Julien estate of Château Lagrange and 4th Growth St. Julien estate of Château Beychevelle as well as the German estate of Weingut Robert Weil in Rheingau.
Hakushu production emphasizes variety with the distillery using 4 different types of barley, both brewer's and distiller's yeast as well as six pairs of different sized stills with various lyne arm angles. The distillery uses mostly ex-bourbon American oak barrels with some Japanese barrels and French wine casks. All this variety gives Hakushu's blenders a wide palette of flavors to work with.
The Whiskey
Medium plus intensity. Very grassy but with a sweetness to it. It's almost like someone sprinkled sugar on freshly cut wet grass. There is some subtle almond smokiness that rounds out the bouquet.
On the palate, the almond smokiness comes to the forefront but it is surprisingly less sweet than what the nose would have you expect. It still has some sweetness with an apple fruit note but no where as sweet as the Glenfiddich 18 that I recently reviewed or many Glenmorangie and Balvenie offerings.
The Verdict
This whiskey has a fair amount of complexity and a lot to offer. At around $80-85, you are paying a premium but this is one of the better values in Japanese whiskeys (compare to say the Yamakazi 12 at $120+) so if you want to dip your toes in this area, it's worth checking out.
Subscribe to Spitbucket