A few quick thoughts on the the 2012 Domaine du Pégau "Cuvée Réservée" Châteauneuf-du-Pape.
The Geekery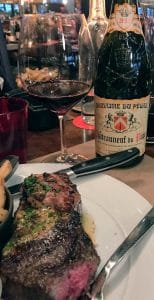 According to Harry Karis is his The Chateauneuf-du-Pape Wine Book, even though Domaine du Pégau is a relatively young estate, being founded in 1987, its roots date back to the 17th century when the Féraud family first planted vines in the area.
In the mid 20th century, Elvira (a self-trained winemaker) and Leon Féraud started an estate known as Domaine Féraud. Their youngest son, Paul, ventured out on his own and started Domaine du Pégau with his daughter, Laurence. Prior to joining her father in 1987, Laurence studied winemaking under the tutelage of Paul-Vincent Avril of Clos des Papes.
The name "Pégau" comes from the ancient wine jugs that have been discovered in excavations around papal estates in Avignon. Jeff Leve of The Wine Cellar Insider notes that Paul and Laurence pronounce the name of their estate differently with Paul pronouncing it as "Puh-Gow" and Laurence as "Pay-Go".
The Cuvée Réservée is typically a blend of 80% Grenache, 6% Syrah, 4% Mourvèdre and 10% of the other permitted grape varieties such as Cinsaut, Counoise, Muscardin, Piquepoul noir, Terret noir and Vaccarèse.
The Wine
High intensity nose. Very evocative mix of dark fruit (blackberry and plum), peppery spice and savory smoke notes.
On the palate, those dark fruits carry through with medium plus tannins framing a lush, velvety mouthfeel that is quite full-bodied. The medium plus acidity adds a juicy component to the fruit and really highlights the gorgeous pepper spice. Coupled with the smoke, these notes linger for a long, minute plus finish.
The Verdict
Fantastic wine that more than complimented the scrumptious steak I had it with. Even with out the food, this wine would have held its own as a meal in itself.
It was well worth the restaurant mark up but at around $60-70 for a bottle retail, its a fabulous Chateauneuf that more than delivers for the money.
Subscribe to Spitbucket