Some quick thoughts on the 2010 Maison Capitain-Gagnerot Corton-Renardes Grand Cru.
The Geekery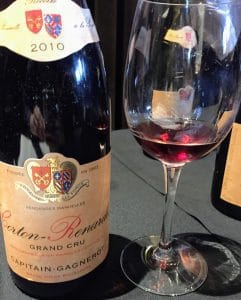 According to Clive Coates' The Wines of Burgundy, the Capitains' history in the region dates back to the 17th century. Domaine Gagnerot was established in 1802 with the Capitain family joining it in marriage in 1864.
Today Capitain-Gagnerot is managed by the current generation of Patrice and Michel Capitain who tend to almost 40 acres that includes not only around 0.8 acres in Corton-Renardes but also plantings in the Grand Crus of Corton-Charlemagne, Échezeaux, Clos Vougeot and the greater Corton Grand Cru. They also own the premier cru monopole of La Micaude in Ladoix-Serrigny.
Les Renardes is one of 25 climats on the hill of Corton and is considered one of the more highly regarded climats of the Grand Cru along with Clos du Roi, Les Bressandes, Les Perrières, Les Pougets and Les Grèves.
The Wine
Medium intensity nose. Some red fruits but mostly earthy forest floor and savory "chicken herbs"–rosemary, thyme, marjoram and sage. It's not quite define which herbs but smelling this wine makes me think I'm by the rotisserie at Costco.
On the palate, the wine has medium plus acidity and firm medium tannins. The acidity amplifies the red fruit flavors and gives them more precision as cherries and pomegranate. The savoriness from the nose carries through but it is still not very defined.
The Verdict
This is a hefty and very dense Grand Cru Pinot noir that is probably in its awkward adolescence. You can tell that there is a lot of layers of complexity waiting to unfurl but it is not there yet. The hints are there, especially with the intriguing savoriness.
At around $150 for a Grand Cru from a good quality vintage, I can see this eventually living up to its price and is worth squirreling away a couple bottles in the cellar for another 5 to 10 years.
Subscribe to Spitbucket