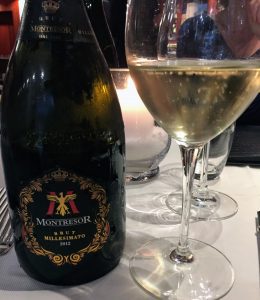 A few quick thoughts on the 2012 Montresor Brut.
The Geekery
While founded in 1892, the origins of Cantina Giacomo Montresor actually stretches back centuries to France. In the 1600s, Claude de Bourdeille was a counselor to Gaston, Duke of Orléans and participated in a failed plot to assassinate Cardinal Richelieu.
In 1640, Bourdeille was granted the title of Comte de Montrésor and established residency in the medieval Loire castle of Château de Montrésor. His descendants stayed in the Loire Valley till the early 18th century when a branch of the family moved to the Veneto region of Italy. It was from this branch that Giacomo came from and now the fourth generation of Montresors are running the Cantina.
Some sources claim a connection between the Montresor family and the Edgar Allen Poe character Montresor in the Cask of Amontillado, a wine connoisseur, but the connection seems to be more coincidental than deliberate. Literary experts often note Poe's frequent use of irony and symbolism in character names with mon tresor being French for "my treasure" which can symbolize both Montresor's prized wine collection and his treasured revenge.
Most noted for their Amarones, the Montresor family owns nearly 250 acres of vineyards throughout Valpolicella and around Lake Garda.
The 2012 Montresor Brut is 100% Pinot noir made via the Charmat method with 4 months aging on the lees before the wine is filtered and bottled under pressure.
The Wine
Mid intensity nose. Apples and white peach. There is a little floral element but it is not very defined.
On the palate it is fresh and smooth, very Prosecco-like. It is more crisp than most Proseccos though. The apple notes carry through with the fresh, crisp acidity reminding me of biting into a Golden Delicious. Moderate length finish that ends very clean.
The Verdict
For around a $10-13 retail bottle, I was quite pleased with this refreshing sparkler.
It kind of hits a middle note between drier, more elegant Cavas and the fresh and smooth mouthfeel of Proseccos.
Subscribe to Spitbucket