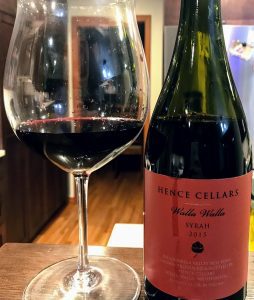 A few quick thoughts on the 2015 Hence Syrah from Walla Walla.
The Geekery
Hence Cellars was founded in 2001 when Henderson Orchard and his father, Willis "Papa" Orchard, planted their Powerline Estate Vineyard in the foothills of the Blue Mountain.
The 2005 vintage was the first release of Hence Cellars wine with Troy Ledwick, a protege of Stan Clarke from the Walla Walla Community College's Enology and Viticulture program and formerly of Basel Cellars, Forgeron and Long Shadows, assisting the Orchards.
In addition to their Powerline Vineyard that is planted to Syrah, Cabernet Sauvignon and Malbec, the Orchards also own the Ruzzuti Estate Vineyard that was planted in 2000 with Syrah, Cabernet Sauvignon and Merlot.
The 2015 Hence Syrah is 100% Walla Walla Syrah with around 112 cases produced.
The Wine
High intensity nose. Pop and pour this just starts jumping out of the glass with black plums, pepper spice and a savory-sweet tamarind chutney note. In the background are some blue floral notes that aren't very defined.
On the palate, those dark fruits carry through with the savory-sweet tamarind note bringing a meaty element along with it. Still, overall, fruit dominant but I can see the interplay of the savory elements coming out even more after some bottle aging. Mouthwatering medium-plus acidity balances the ripe full-bodied fruit very well and adds freshness. The medium-plus tannins contribute to the big mouthfeel but are quite ripe and smooth. Moderate length finish at this point ends with the black plums and pepper spice.
The Verdict
At around $30-35, this is a scrumptious Walla Walla Syrah that is drinking quite well now but is still on the young side. Beautiful balance with the fruit taking the forefront in its youth but the promise of more savory and complex tertiary flavors lurking in the background.
It's a great value now for a delicious Washington Syrah but I can see this jumping up another level in 2-3 years that will make it even more outstanding of a deal.
Subscribe to Spitbucket