A few quick thoughts on the 2015 Domaine des Pins Les Pierres from the Beaujolais cru of St. Amour.
The Geekery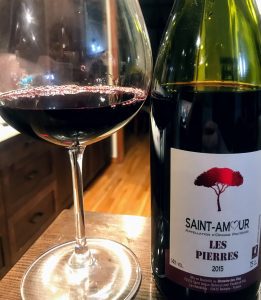 Founded by Jean-Francois Echallier, Domaine des Pins was sold in 2011 to David Gobet, a family friend. The Les Pierres bottling is made in partnership with the Pardon family who have been making wine in Beaujolais since 1820.
One of the 10 crus of Beaujolais, St. Amour is unique for being in the Saône-et-Loire department of the Mâconnais. The rest of the crus (and greater Beaujolais region) are all in the Rhône department.
The Les Pierres is 100% Gamay produced with 50-80% semi-carbonic maceration where whole clusters of grapes are loaded into a fermentation tank that is then sealed. Since the the tank is not pre-filled with carbon dioxide to initiate an intracellular fermentation, this process is only a "semi" carbonic maceration. However, as the weight of the grapes crush the clusters underneath and release juice, native yeast start fermentation–filling the closed tank with carbon dioxide. This triggers carbonic maceration for the intact berries higher up in the tank.
Among the distinctive aromas produced by carbonic maceration, particularly in grapes like Gamay, are fruity esters such as benzaldehyde that produce cherry kirsch aromas and ethyl cinnamate that encourage raspberry and strawberry notes.
The Wine
Medium intensity nose. Cherries and raspberries with some spice and floral notes.
On the palate those red fruit notes come through but bring an herbal (rosemary and thyme), rather than spicy, element with them that wasn't present on the nose. With the medium-plus acidity those notes take on a savory quality that is intriguing. Medium tannins have some grip but balances well with the medium-plus body fruit. Moderate length finish brings back the floral notes but lingers on the cherry flavors.
The Verdict
At $15-20, this is certainly a step up from your basic Beaujolais. However, it has enough character to more than merit the jump.
Charming and easy drinking, this wine lends itself easily to food pairing though it is quite enjoyable on its own.
Subscribe to Spitbucket