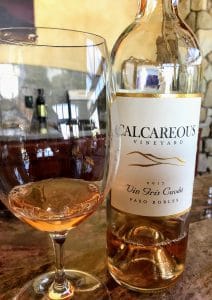 A few quick thoughts on the 2017 Calcareous Vin Gris Cuvée from Paso Robles.
The Geekery
Calcareous was founded in 2000 by the father-daughter team of Lloyd Messer and Dana Brown on a calcareous limestone plateau on the western side of the Paso Robles AVA. While Lloyd passed away in 2006, Dana has continued exploring the unique terroir of their vineyards which includes the 442 acre Calcareous Estate, the nearby 12 acre Kate's Vineyard and 15 acre Carver Vineyard in the York Mountain AVA.
The Vin Gris is majority Mourvèdre with some Grenache, Malbec, Syrah and Zinfandel used depending on the vintage. While the Mourvèdre and Grenache are usually produced via the vin gris method of treating the red grapes like white wine grapes with direct pressing, the other varieties in the blend are added via letting the wine spend a short period in contact with the lees from red wine fermentation.
This technique of lees inclusion adds color, phenolic texture and weight to the rosé. The wine then spends around 6 months aging in neutral French barrels to add additional depth.
Around 450-500 cases a year are produced.
The Wine
Medium-plus intensity nose. A mix of red fruits–strawberry, cherry–and some very intriguing fresh orange blossoms. There is also cinnamon and peppery spice aromatics.
The palate of the rosé is noticeably dry and weighty with medium-plus acidity and medium-bodied fruit. The red fruits still dominate with the floral orange blossoms giving way to richer blood orange fruit. The spice notes from the nose don't carry through but the moderate finish ends on the lively acidity and fresh red fruit notes.
The Verdict
At around $25-30, this is a pricey rosé but it is an exceptionally character-driven one that still hits the spot for refreshing summertime sipper.
The balance and mouthfeel are the most impressive making this rosé worth the splurge.
Subscribe to Spitbucket