A few quick thoughts on the 2013 Domaine Rochette Côte de Brouilly from Beaujolais.
The Geekery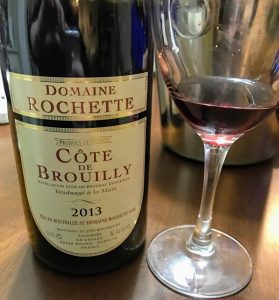 Domaine Rochette was founded by Joël and Chantal Rochette in 1981 with 15 ha (37 acres) of vines. In 2009, the Rochettes were joined by their son, Matthieu, who is charge of winemaking.
Joël is the great-great grandson of Joseph Jambon, the 19th century Villié-Morgon vintner, and is a member of the notable Beaujolais winemaking family that today includes several estates such as Jambon Père et Fils, Philippe Jambon and Domaine Marc Jambon.
Among the Rochette family's holdings are vines in 4 of the 10 crus of Beaujolais–Côte de Brouilly, Régnié, Brouilly and Morgon–with many parcels over 100 years of age.
The vineyards of Côte de Brouilly are located on the slopes of the ancient volcano, Mount Brouilly. The granite and diorite-rich soils of the slopes are tended to by around 50 growers, producing wines that Hugh Johnson notes in his Wine Companion are characterize by their strength and concentration as well as "high-tone scent of violets" that develop with bottle age.
Around 300-350 cases a year are made.
The Wine
Medium intensity nose with red fruits–candied cherries, currants–and some cinnamon spice. The nose actually reminds me of Mike & Ike Hot Tamales candies. There is a subtle floral element but its hard to make out behind the spice.
On the palate, the red fruits carry through but the cinnamon spice is toned down quite a bit. In its place is a little brambly earthiness but the medium-plus acidity and juicy red fruit is the dominant note. Medium tannins are firm but not biting. Moderate finish ends on the fruit.
The Verdict
While the lively acidity and juicy fruit are still holding up, I wonder if the "high-tone" floral notes and added layers of complexity have came and went in this bottle's evolution.
Still, for around $15-20, this is certainly a very food-friendly and enjoyable Gamay.
Subscribe to Spitbucket