A few quick thoughts on the 2013 Achaval Ferrer Finca Bella Vista Malbec from Mendoza.
The Geekery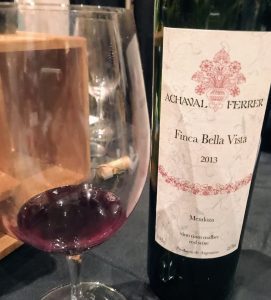 Achaval Ferrer was founded in 1998 when friends Santiago Achával and Manuel Ferrer joined Italian winemaker Roberto Cipresso and Tiziano Siviero in a new venture to focus on single vineyard Malbecs.
In 2011, Cipresso and Siviero sold their shares and a majority stake of the winery to the spirits firm SPI Group which owns the vodka brand Stolichnaya as well as the Italian wineries Marchesi de' Frescobaldi (with Michael Mondavi), Tenuta dell'Ornellaia, Castelgiocondo and Luce della Vite.
Located in the Perdriel region of Luján de Cuyo outside of Mendoza, the Bella Vista vineyard was first planted in 1910 on its own rootstock. Sitting at an elevation of over 3200 feet, many of the century-plus vines are still in use producing a tiny yield of around 1 ton per acre. At this low yield, it takes the crop of 3 vines to produce enough grapes for 1 bottle of wine.
The wine is aged for 15 months in 100% new French oak barrels with around 1500 cases produced.
The Wine
Medium intensity nose. Very jammy dark fruit–black cherry and black plum. Moderate oak spice with clove. More surprising is the distinctive tomato-leaf herbalness accompanying the dark fruit.
On the palate, the rich dark fruit carry through–as does the herbalness which morphs into more stemmy-ness. High tannins have a firm edge and chalky texture but aren't biting. Medium acidity and probably a high pH adds some softness to the rich fruit. The finish is fruit forward but dies pretty quickly.
The Verdict
This wine has an odd combination of very ripe and very under-ripe flavors that certainly has me a bit baffled at what happened in the vineyard and winery this year.
At $90-110, it's hard to say that this wine is worth the premium above the winery's basic Malbec ($30) or Quimera blend ($40).
Subscribe to Spitbucket