Earlier this summer, social media was abuzz with headlines about the new 'Four Loko' that supposedly was causing people to black out and other wild stories. One rumor about how this wine was somehow helping to spread HIV had to be debunked by Snopes.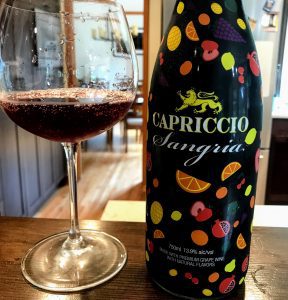 Now granted, having Snopes deal with wine rumors isn't too out of the ordinary–see their report on the California wine arsenic scare and the bizarrely bogus "helium-infused wine" video. But still, this was pretty crazy stuff for something that is essentially regular old sangria with a typical wine ABV of 13.9%.
Living on the West Coast, it took a little time for this "wine of the summer" from Florida to make its way to my neck of the woods.
But once it got here, I figured I would try the NV Capriccio Bubbly Sangria from Florida Caribbean Distillers in the same vein of open-mindedness that I tried the Apothic Brew and Mamamango.
So here goes.
The Geekery
Florida Caribbean Distillers was founded in 1943 by Alberto de la Cruz whose family hailed from Cuba. Today the company is managed by Carlos de la Cruz who also leads the leading Coca-Cola bottler for Puerto Rico and Trinidad & Tobago.
The Capriccio line was launched in 2014 and was named by someone, at some point, as the #1 selling sangria in the Caribbean. The wine was first released in the US through Publix grocery stores in the southeast. That was followed soon by Meijer stores in the Midwest.
Finding actual details about the wine is scarce. Like for instance–what grapes are in the wine? In an interview with MensHealth.com, the National Sales Director at Florida Caribbean Distillers claims that the sangria is made with a blend of wine grapes and "100 percent natural fruit juices".
Coming from Florida, there aren't many options with only 500 acres of grapes planted–many of them native American varieties like Muscadine or hybrid grapes like Blanc du Bois.
Another source lists the wine as being made in Puerto Rico who does have some Tempranillo and Merlot vines along with white Muscatel that is used for sangrias.
The back label of Capriccio is more forthcoming about the fruit juices in the wine. They list pineapple, pomegranate, orange, lemon, pear, apple, cherry and lime. It is possible that the dark color of Capriccio is coming from the pomegranate and cherry juice component. This would make sense even with a white wine base of Muscatel.
The Wine
Medium intensity nose. It does smell like fresh fruit juices with the cherry, orange and pineapple dominating. No sign of the musky Muscadine note on the nose.
On the palate, the cherry and orange carry through the most with the pomegranate making its presence known as well. It is very sweet with only the slight spritziness and medium-minus acidity balancing the medium-bodied weight of the fruit.
The "bubbly-ness" is very low, probably no more than 1 atmosphere of pressure.  It feels less bubbly than many sodas. Very low tannins add to the grape juice feel of this wine. The moderate finish lasted longer than I expected with a surprisingly fresh fruitiness. No back end heat at all to give evidence of the 13.9% ABV.
The Verdict
For sweet wine fans, I can see how a smooth and easy-drinking style can sneak up on people.  They're probably more used to Moscato wines in the 5-8% ABV range.
Pounding back a couple of 375ml half bottles (the equivalent of two glasses of wine with each bottle) will hit you just as hard as finishing off a full bottle of regular dry red and white wine by yourself. Perhaps even harder with all that sugar in it as well.
But if you treat it like regular wine, drinking in moderation, there is nothing crazy about this at all. At $7-9 for a 750ml bottle and $11-13 for four pack of 375ml bottles (1.5L total), it's just a fruity and easy-drinking buzz.
In many ways, it reminds me of Mamamango–though that Moscato-Mango hybrid is far less sweet. I can see non-sweet wine fans enjoying the Mamamango on the right occasion (like a light brunch). However, the Capriccio Bubbly Sangria is definitely something for folks with a sweet tooth who don't like tannins or acidity.
Subscribe to Spitbucket