A few quick thoughts on the 2014 Ch. de la Perriere Beaujolais cru from Brouilly.
The Geekery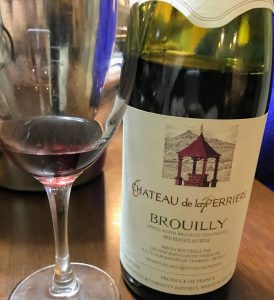 Ch. de la Perriere is produced by the negociant house Jean-Claude Debeaune which is part of the Beaujolais empire of Georges DuBoeuf.
The wine is 100% Gamay sourced from the 11 hectare (27 acres) Brouilly estate of Luc and Arnaud Brac. The estate was first planted in 1631 by their ancestor, Antoine Brac.
Brouilly is the southernmost and largest of the 10 Crus of Beaujolais. It's vineyards encompass the flatter land around the volcanic Mont Brouilly. Vineyards planted on the slopes of Mont Brouilly itself belong to the cru Côte de Brouilly.
In his book, Terroir, James Wilson notes that the soils of Brouilly, like all of the crus of Beaujolais are granite-based with a thin sandy layer of arène (from the Latin word for "arena"). The soils are on the acidic side but are mineral rich with magnesium, phosphorous and potassium.
But unique to the crus of Brouilly and Chiroubles is a white clay known as smectite–an expansive clay related to the wine fining agent bentonite. The presence of smectite enhances the cation-exchange and water-retention capabilities of the soil which can be particularly beneficial in warmer, early-ripening vintages like 2014.
The Wine
Medium intensity nose. Red fruits like cherry and candied raspberry. Subtle oak spice.
The red fruits carry through to the palate with high acidity making them very juicy but also a bit tart. Medium body fruit and ripe medium tannins offer some balance but don't quite take off the edge. Moderate length finish ends on the mouthwatering fruit.
The Verdict
The acidity and structure of this Beaujolais definitely lends itself more to the table and food pairing than drinking on its own. Pairing this wine with something that can take advantage of its mouthwatering acidity (like a Thanksgiving spread) would be its best use.
At $15-18, it is a decent Beaujolais cru but nothing very wow-worthy.
Subscribe to Spitbucket