A few quick thoughts on the 2017 Santa Julia Torrontes from Mendoza, Argentina.
The Geekery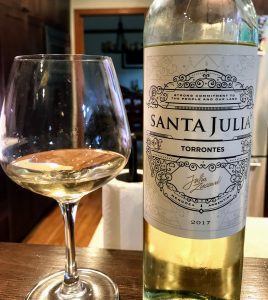 Santa Julia is made by the Zuccardi family who founded their winery in the Maipú region of Mendoza in 1963. Julia, the wine's namesake, is the granddaughter of founder Alberto Zuccardi.
The family originally sold wine in bulk to larger producers until a financial crisis in the 1980s saw many of those bottlers go out of business. At this point, the Zuccardis moved towards bottling their own production.
Today the Zuccardis produce 2.2 million cases of wine from 1001 ha (2474 acres). The family's vineyards are primarily in the Santa Rosa and Uco Valley sub-regions of Mendoza with 180 ha (445 acres) still in Maipú.
The Santa Julia line was created in the 1990s to highlight the diversity of Argentine wine. While there is a Malbec made, the brand features Viognier, Pinot grigio, Tempranillo, Chardonnay, Cabernet Sauvignon as well as Torrontes.
While the Zuccardis' main Torrontes comes from the Salta region, the Santa Julia comes from the warmer Mendoza area. All the fruit for Santa Julia is sustainably farmed with several of the vineyards certified organic.
In addition to the Santa Julia and main Zuccardi brand, the family also produces wine under their Fusión label.
The Wine
(Tasted blind as part of a Somm Select flight)
High intensity nose. Lots of orange blossoms and white peach notes. A little lychee and rose petal has me thinking Gewurztraminer.
On the palate, the wine is still fruit forward. No signs of minerality. Medium acidity and medium body. Slight oiliness on the mouthfeel. Maybe Albarino? Seems more New World. Short finish.
The Verdict
I ultimately went with an Oregon Gewurztraminer and was, of course, wrong. While the lychee and rose petal was on the nose, it didn't carry through to the palate. Nor did it have the "spice" note that hints at Gertie.
At $10-14, the Santa Julia Torrontes won't wow you with complexity but it is a tasty and refreshing drinker.
Subscribe to Spitbucket