Frequent readers know that I'm a big fan of wine podcasts. They're immensely valuable as a learning tool. While I love my wine books and highlighters, I found that coupling book learning with audio reinforcement is a fantastic approach to tackling new material.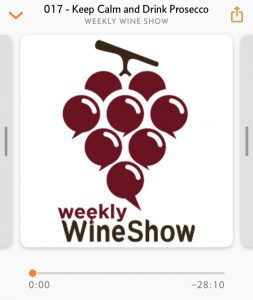 The beauty of podcasts is their accessibility. Pretty much any monotonous task (like driving to work, doing the dishes, working out, etc.) is a perfect opportunity to turn on a podcast. All you need is a podcast player–which most phones have or can be easily downloaded.
Many cars now a days are Bluetooth compatible but adapters are cheap and easy to use. Likewise, Bluetooth headsets are abundantly available for listening at the gym or around the house.
My love of podcasts have led me to review episodes of several favorites already like I'll Drink To That!, Grape Radio, UK Wine Show and Wine For Normal People. While attending the Wine Bloggers Conference last month in Walla Walla, I was introduced to two new podcasts that have enter my rotation–Decanted Podcast and Weekly Wine Show.
I'll probably get to a review of Decanted Podcast later this month but first let's dive into Tony and Betty Notto's Weekly Wine Show.
Some Background
The Nottos started their podcast in early 2016 to document their journey exploring the world of wine. Based in Minnesota, they are now up to 139 shows (as of early November) with new episodes coming out weekly.
Most of the shows are fairly short, being anywhere from 10 minutes for their quickie "Four Wines" reviews to 30 minutes for standard episodes. While they will review wines that they've received as samples, many of the wines featured look to be wines that the Nottos have purchased from local shops. I find that adds a lot of relatability to their podcasts as most of the wines they review are actually attainable by regular folks.
Since I'm currently prepping for a class that I'll be teaching soon on sparkling wines, I've been working through the bubbles-related episodes of the Weekly Wine Show. For this Geek Notes, I'm going to review their episode on Prosecco from June 2016 (28:10).
Other episodes that are certainly worth checking out include:
Ep 003 – Moscato Time!!! (24:11)
Ep 014 – Any Day is Special when you're Drinking Cava! (25:33)
Ep 020 – Lambrusco, The Comeback Wine (23:29)
Ep 041 – Sparkle Time!!! (24:19)
Ep 066 – Crémant d'Alsace (19:41) — I really liked this episode and may review it in a future edition of Geek Notes.
Ep 070 – German Sekt (17:35)
Ep 092 – Champagne Holiday (18:45)
Fun Things I Learned and Enjoyed From This Podcast
(1:02) A nice highlight of what DOC/G means and how it is not necessarily a guarantee of a great wine or something people will enjoy. This is probably the biggest misconception of European appellations in that folks often assume that these higher levels "guarantee" a better wine over something from another quality level like IGT/Vin de Pays or even table wines. There is the hope, certainly by the governing authorities, that the top classifications of AOC, DOC/G and Spanish DOs are better wines because of their delineated terroir and more restrictive rules. However, as Tony points out, nothing is guaranteed except that the wine producers followed the rules of their appellation.
(2:03) Betty notes that Prosecco was the 2nd leading sparkling wine in Italy by volume with Moscato d'Asti being number one. I'm wondering if she is talking about consumption volume instead of production. This episode is from 2016 so the figures she's quoting could be outdated but I still think even then that Prosecco led all other Italian sparklers by both production volume and exports. Exact year-to-year figures to compare are hard to track down but Italian Wine Central notes in 2016 that 7,083,000 cases of Asti were produced compared to 29,393,000 cases of Prosecco DOC in 2015. It seems unlikely Prosecco's numbers were drastically different in 2016.
(5:13) I had no idea that there were Prosecco producers making Proseccos using the traditional method! Very cool! Betty also introduces the col fondo method which is apparently a super old-school means of producing Prosecco. A totally new discovery for me. Now I have some unicorns to hunt and try.
(8:56) A great shout-out to another unicorn that I hope to bag someday–Tranquillo or basically still white Glera labelled as Prosecco. Since obviously the Prosecco consorzio wants to focus on branding Prosecco as a popular sparkling wine, you are more likely to see an IGT Veneto or Venezia Giulia Glera (still quite rare) than a Prosecco Tranquillo. But they exist and would be fun to try even though I suspect that, like Coteaux Champenois, the wines will probably highlight why the grape does better as sparkler. Good research on the Nottos' part for noting some of these geekier versions of Prosecco.
(18:36) From here the Nottos expand out to give a nice big picture view of the Veneto and Friuli-Venezia Giulia regions as well as some of the other wines produced here beyond Prosecco.
(21:05) Betty shares the origins of the Bellini before ending the show with food pairing tips and their wine reviews. I love that she notes that the bars who use Prosecco in a Bellini instead of Champagne are not cheaping out but rather being true to the cocktail's roots.
Final Thoughts
In many ways, the Weekly Wine Show reminds me a lot of Elizabeth Schneider's Wine for Normal People podcast except I would say that the Nottos are more "normal".
While Betty Notto does have a level 2 certification through the Wine and Spirit Education Trust (WSET), I feel like her and Tony approach their topics far closer to how most wine drinkers who haven't been in the wine industry would. In contrast, Schneider (who I absolutely adore as a fellow geek) definitely brings her industry background and experience as a wine educator to the table in her Wine For Normal People podcasts.
Both angles are great but, as a wine student, one of our biggest pratfalls is isolating ourselves in a "bubble" of wine think. It's very easy when you're immersed in wine to start assuming that every body approaches things from that same geeky perspective.
But the vast, vast majority of wine drinkers aren't geeks. They aren't snobs. They aren't even enthusiasts. Most are just regular folks looking to pick up a nice bottle of wine to have with dinner.
The Nottos get that which gives great currency to their podcast. The Weekly Wine Show offers a refreshing point of view that has a broad appeal to many types of wine drinkers–even students who are working on their own journeys.
Subscribe to Spitbucket