If you Google "How to find a good bottle of wine", you'll get 690,000,000 results of all kinds of conflicting advice.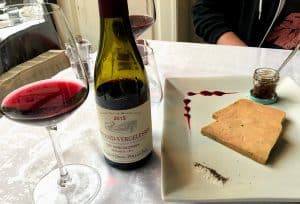 From VinePair's "9 Tricks To Find A Good, Cheap Bottle Of Wine", Marie Claire's "How to Choose Wine for Dummies" series to WikiHow's How to Select a Bottle of Wine (with Pictures!) you'll find a smattering of suggestions telling you to focus on everything from what wine region it comes from to the producer or the grape variety.
Some of the advice is useful (be adventurous). Some of it is ridiculous–like WikiHow's bizarre suggestion that the best time to pick out a budget Cabernet Sauvignon is when you are on an airplane. (What?)
But even the best advice can be overwhelming–and wine geeks aren't immune to those feelings. In fact, the more you think you know about wine, the more you start to doubt yourself when picking out bottles.
The stir fry is going to be a medium body dish with a little bit of a salty-smokey element with the pork. Let's go with a cru Beaujolais for the body and acid/salt balance.
Oh but it's also going to have a little spice. Maybe an Alsatian Pinot gris to temper the heat?
Or I could go with a barrel-fermented California Sauvignon blanc to keep the body matching and still play off the subtle smokey pork?
Ack, wait…the stir fry is going to have asparagus!
Fuck it, we're going with Champagne.
But It Doesn't Have To Be That Complicated
If you really want to know the one single "life hack" that will increase your odds of finding the best bottle of wine to enjoy, here it is.
Don't focus on the wine. Focus on the people you're sharing it with.
Numerous studies have highlighted how our environment impacts our perception of taste. While most of these studies focused on impersonal things like the color of the room or ambient sounds, it's not far off to assume that personal factors like the company we're with is also going to impact our perceptions.
And more profoundly.
Michelin-starred chef Heston Blumenthal recently shared with the Sydney Morning Herald his technique of changing the taste of things by visualizing different people he liked or disliked.
During lunch, he conducts an impromptu experiment, asking me to take a sip of my sake while picturing someone I love dearly. Then he says to try a sip while imagining someone I really dislike. The difference is marked – in the second there's a bitter taste not apparent in the first. — Kerrie O'Brien, 11/9/2018
Other studies in the field of neurogastronomy have found evidence of a link between visualization and taste. For instance, if you look at images of things that are sweet, the next item you eat is more likely to be perceived as sweet. If you look at images of something bitter, you're more likely to taste bitter, etc.
Better Than Visualizing
While Blumenthal's "trick" is cute. We can take it a step further by actualizing. Why think about someone you love dearly, when you can have them sitting right across from you?
Wine is meant to be shared and even crappy wine has its charms when it's enjoyed with good company. Have you ever had a tremendous wine at a restaurant or on vacation, only to bring home a bottle from the store and have it be "ho hum"? Sure, the ambiance of where you were played a role. But most likely you were at that nice restaurant or on vacation with someone you cared about–someone who made that experience better.
The next time you're stressing out over which bottle to open for an occasion, put those worries at bay. Ultimately, wine is just grape juice. It came from the ground, went into the glass and will likely be gone in the morning.
But the people and experiences we have with it can live on for ages. Focus on that and enjoy the moment.
Subscribe to Spitbucket