Next Monday, June 24th, I will be the featured guest on Jessyca Lewis' #WineMktMonday talking about the wine industry's approach in marketing to Millennials.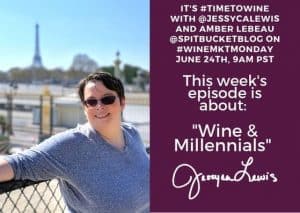 I profiled Lewis' #WineMktMonday on a previous Geek Notes about useful Twitter chats for wine lovers and wine students. A long time wine educator and social media consultant, Jessyca Lewis has worked with wineries across the globe.
On Twitter, she uses her bi-weekly #WineMktMonday chats to highlight innovative voices in the wine industry such as Jim Morris, Vice President of Estate Management and Guest Relations at Charles Krug; Tim Hanni, Master of Wine and author of Why You Like the Wines You Like: Changing the way the world thinks about wine; Shayla Varnado, founder of Black Girls Wine; Zoltan Nagy, author of Reinas de Copas about the pioneering women leading Spain's wine industry and Frances Gonzalez, founder of VeganWines.com and Despacito Distributors.
I am very excited to join that list of guests to discuss Millennials and the changes they're inspiring in the wine industry.
This has been a topic that I've focused on quite a bit on the blog as evident by the bounty of articles in the Millennial category archive. Those Millennial focused articles have also been some of the most read and shared posts that I've produced here on SpitBucket.
The Wine Industry's Millennial Strawman
Millennial Math — Where's the value in wine?
Is the Wine Industry boring Millennials to (its) death?
The Real Influencers of the Wine World
Napa Valley — Boomer or Bust?
Adapt or Perish — The Wine Industry's Reckoning With Technology
No, There's Not an App For That — Winery Visit Rant
The Lost Storytelling of Wine
Zinfandel — The "Craft Beer" of American Wine
So Join Us This Monday!
It will be at 9 am PST, Noon EST, 5 pm BST and 6 pm CET on Monday, June 24th. If you're not familiar with how Twitter wine chats work, take a look at my primer for some tips. Everyone is welcome to participate, whether you're just a regular wine lover or someone in the industry.
And if you have a question about Millennials and wine, tweet them to Jessyca Lewis (@JessycaLewis) with the #WineMktMonday hashtag. It might just make it to the chat!
See you on Monday!
Subscribe to Spitbucket