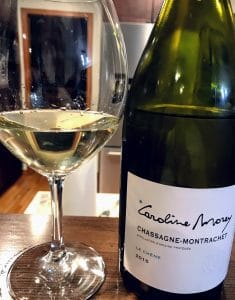 A few quick thoughts on the 2015 Caroline Morey Chassagne-Montrachet from the Le Chêne vineyard.
The Geekery
In the Morey Edition of my Keeping up with the Joneses in Burgundy series, I gave some background on Domaine Caroline Morey which was founded in 2014 by Caroline and her husband, Pierre-Yves Colin.
Most of Caroline's 17 acres (≈ 7 ha) were inherited from her father, Jean-Marc Morey–including choice parcels in Chassagne-Montrachet. Le Chêne (or Les Chênes "the oaks") is a village-level cru located just below the Premier Cru vineyards of La Maltroie and Ez Crets (which is usually labelled as neighboring La Maltroie).
Like several crus (Les Chaumees, Morgeot, Champs Jendreau, Clos Saint-Jean, En Remilly, etc) in Chassagne-Montrachet, Les Chênes is planted to both Chardonnay and Pinot noir. Among the other notable producers making wine from this cru include Philippe Colin (rouge and blanc, Wine Searcher Ave $32 for rouge and $49 for blanc), Domaine Alain Chavy (blanc, Wine Searcher Ave $53) and Domaine Roux Pere et Fils (rouge, Wine Searcher Ave $45)
The Wine
Medium-plus intensity nose. Lots of tree fruits–ripe apples and a little spiced pear. There is also a slight citrus edge around the bouquet that is not defined but still intriguing.
On the palate, the mouthfeel has a lot of weight and concentration. It won't fool anyone for a California Chardonnay (no diacetyl butter) but there is noticeable creaminess in the mouthfeel. The apples and spiced pear carry through. Medium-plus acidity highlights the citrus streak and provides much needed balance for the richness and medium-plus weight of the fruit. Moderate finish.
The Verdict
At around $60-65, Caroline Morey's example from Le Chêne definitely eclipses her peers in price–being priced like a lower level Premier cru.
I won't deny that is certainly superior to most village-level Chassagne I've had but, apart from its impressive weight, I don't know if I'm really sold on this wine at this price point. It's missing some of the minerality and long finish I crave but that could be its youth at play.
Subscribe to Spitbucket