Some quick thoughts on the 2015 Paringa Sparkling Shiraz.
The Geekery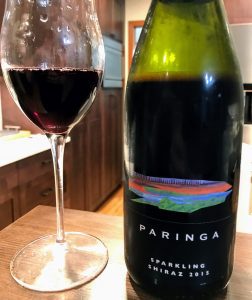 I will admit that this one had me a bit baffled in several ways. First off, there are apparently two Paringa wineries in Australia making very different wines.
According to James Halliday's Wine Atlas of Australia, a Paringa Estate was founded in 1985 by former school teacher Lindsay McCall who has established himself as one of the best winemakers on the Mornington Peninsula. But this does not seem to be our sparkling Shiraz producer.
That honor goes to a Paringa winery located in South Australia that is currently ran by David and Dena Hickinbotham. This winery doesn't seem to merit an entry in Halliday's Wine Atlas or in the Christie's World Encyclopedia of Champagne & Sparkling Wine.
The 2015 Sparkling Shiraz is sourced from vineyards in South Australia. The tasting note doesn't say the sparkling wine production method but does note that the wine has 40.6 g/l residual sugar–putting it in the Demi-Sec category of sweetness.
The Wine
Medium intensity nose. Dark berry fruits (plums and blackberries) but also a little earthiness like dried green herbs.
The palate is quite frothy which makes me think this was made in the Charmat method like Prosecco. There is also a creaminess to the mouthfeel like a sweet cream topping on a pie. The wine is very noticeably sweet and needs more acidity and liveliness. The herbal earthiness on the nose carries through and makes me think of thyme.
The Verdict
There is a lot going on with this wine with the sweet cream and dark fruits as well as the earthy green notes. I think it is trying its darnedest to be complex but ends up being all over the place.
For me, personally, the sweet and earthy flavors don't jive and I find myself wishing this wine had more acidity and less sweetness. A dry, earthy sparkling Shiraz around $15 could've been quite interesting–especially as a pairing for roasted meats.
Subscribe to Spitbucket