The Wine Industry Advisor posted their list of most read articles of 2017 with the number one article,from March, being on the launch of Liberation Distribution's web-based platform designed to connect small wineries with retail and restaurant clients.
LibDib aims to fill a huge gap in the traditional three-tier distribution network where the wholesale tier is dominated by a few large players who virtually ignore all but the largest portfolios. This is an exciting development for wine lovers to watch because when small family owned wineries gain more avenues to reach retail shelves and restaurant wine lists, consumers get a chance to have real choice when it comes to their wine purchases.
That's not the case right now with most consumers having their choices at grocery stores and restaurant wine lists limited to an assortment of brands made by just a handful of producers.
Don't believe me? Let's take a stroll to a local grocery store and look at the shelves.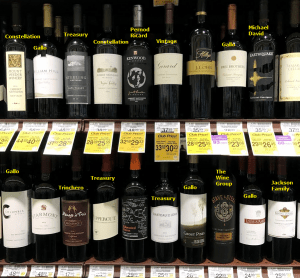 Here's a snapshot of 20 Cabernet Sauvignons. That's a lot of Cabs right? Well out of the 20, we have 5 of the wines being brands that belong (either whole or partially) to E. & J. Gallo. That's 25% of the shelf right there. Of course that percentage could be higher if we include Gallo's recent purchase of Orin Swift wines or add other popular and well known Cabernet Sauvignons from the Gallo brands of Bridlewood, Carnivor, Souverain, The Naked Grape and Vin Vault.
Let's move over to Chardonnay where Jackson Family Estate holds considerable weight in the market place. Both the Kendall Jackson Vintner's Reserve and La Crema Sonoma Coast regularly vie for top-selling Chardonnay in the United States but Jackson Family Estates can also control the shelf with Chardonnays from their Carmel Road, Freemark Abbey, Brewer-Clifton, Byron and Matanzas Creek brands.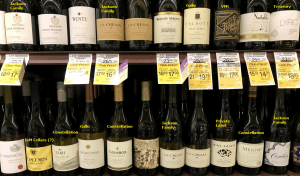 In recent years, the Jackson Family has been aggressively acquiring brands in Oregon and now includes such notable names as Penner-Ash, Zena Crown and Willakenzie in their portfolio.
If we head over to red blends, we see a lot of familiar names and many of them are under the umbrella of Constellation Brands. The past couple of years, Constellation has been spending mad money buying virtually everything from high-end Napa estates like Schrader Cellars, several of Charles Smith's Washington labels to distilleries like High West and breweries like Ballast Point.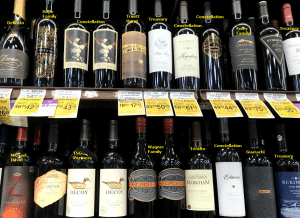 Constellation Brands has been buying up so many labels that it is becoming something of a parlor game to guess who they are going to swallow up next. For many observers, the betting money is on Constellation making a move to acquire Ste. Michelle Wine Estates.
Speaking of Ste Michelle Wine Estates, a quick peak at the Syrah and Merlot section of our local grocery store shows what a commanding presence they have in Washington State. Of the 17 skus featured on the shelf here, an astounding eight of then (nearly 50%) are made by this one company.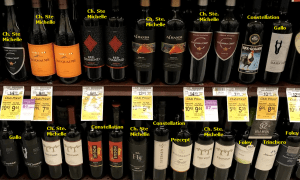 That doesn't even include their other well known brands like Seven Falls, Drumheller, Northstar, Spring Valley Vineyards, Stimson, Tenet/Pundit, Col Solare and their original Chateau Ste. Michelle label. It also doesn't include some of their partnership projects and recent purchases of California wineries like Stag's Leap Wine Cellars and Patz & Hall to go with their previous holdings of Conn Creek, Villa Mt. Eden, and Erath in Oregon.
In fact, it is entirely possible for many restaurants in Washington State to have a wine list of 100+ wines made up of nothing but brands owned completely or partially by Ste Michelle Wine Estates.
And this is not unusual in the world of wine. The consolidation of distributors and flurry of mergers and acquisitions of wineries by big corporations puts immense pressure on dwindling shelf space.
For many small wineries its virtually impossible to break through so it is no surprise that a start up like Liberation Distribution is capturing attention. It potentially could be a game changer for many family wineries.
It's something worth watching and worth raising a glass to toast the success of–even if that glass, right now, is made by one of the handful of mega-corporations.
Subscribe to Spitbucket