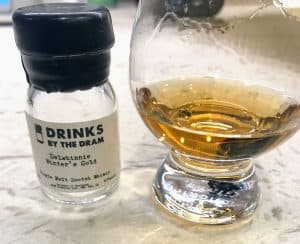 Some quick thoughts on the Dalwhinnie Winter's Gold Single Malt.
The Geekery
According to Charles MacLean's Whiskypedia, Dalwhinnie is the coldest distillery in Scotland with an average annual temperature of 42.8 °F (6 °C).
Founded in 1897, Dalwhinnie was sold in 1905 to American distiller Cook & Bernheimer, making it the first Scottish distillery under foreign ownership. The advent of US Prohibition in 1919 ushered its return to Scottish hands. Through mergers and acquisitions, the distillery changed owners multiple times over the years with it eventually ending up in the Diego stable where it is part of the Classic Malts series representing the Highlands.
The Winter's Gold is a non-age statement bottling sourced from spirit distilled during the heart of winter between October and March. Like others in the Dalwhinnie line, it is crafted with lightly peated malt from Roseisle and water sourced from Lochan Doire Uaine in the Drumochter Hills. The whiskey is aged in mostly ex-bourbon barrels.
A unique expression, the distillery recommends enjoying the whiskey straight from the freezer.
The Whiskey
(Room temperature) Fruity nose, like candied citrus and honey. Some subtle oak spice. No note of peat.
(Freezer) Still very fruity but instead of citrus there is a mix of apple and tropical fruit. The spice completely disappears.
The palate at room temperature is sweet with honey and fruit being very prevalent. The peat appears finally but is slight. Very light in body at 43% ABV.
From the freezer, everything gets more muted except, paradoxically, the peat which becomes more of floral heather peat like a very lightly peated Highland Park.
The Verdict
An interesting dram but I'm not sold on the "enjoy from the freezer" marketing angle and preferred it at room temp. It follows the typical light & sweet Dalwhinnie style and would be a good "Breakfast Scotch".
At around $45-50, it offers a decent value.  However, I think the jump to their 15 years in the $70-75 range delivers a lot more depth.
Subscribe to Spitbucket