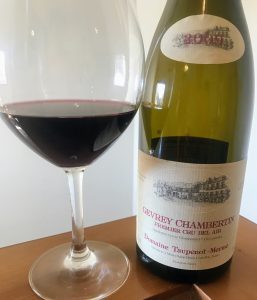 Going to need more than 60 seconds to geek out over the 2009 Domaine Taupenot-Merme Gevrey-Chambertin Premier Cru Bel Air.
The Background
Domaine Taupenot-Merme is a 7th generation family estate based in Morey St.-Denis ran by siblings Romain and Virginie. The estate covers 32 acres in both the Côtes de Nuits and Côtes de Beaune including plots in the Grand Cru vineyards of Charmes-Chambertin, Mazoyères-Chambertin (Taupenot-Merme being one of the few estates to bottle these Grand Crus separately), Clos de Lambrays (the only other estate outside of the eponymous clos to own a piece of this Morey-St-Denis Grand Cru) and Corton in the Le Rognet climat.
According to Bruce Sanderson of Wine Spectator, until 1988 the estate did all their vine propagation and rootstock grafting in house, carefully selecting massale clones from their best vines. Since 2001, all the vineyards have been farmed organically.
For winemaking, the grapes get around 10 days cold soaking before fermentation with the estate using wild, indigenous cultures for both primary and malolactic fermentation. Fermentation is done in stainless steel with a mixture of punch downs and pump overs before the wines are transferred to barrel where they see 12-15 months aging before spending their last 3 months in tank prior to bottling. The amount of new oak each wine receives varies, ranging from 25% for village level to 40% for Grand Crus. Premier Cru wines, like the Gevrey-Chambertin Bel Air, usually see about 30% new oak. The wines are bottled without any fining or filtering.
The Vineyard

The Bel Air vineyard is located in an enviable position up-slope of the esteemed Grand Cru Chambertin-Clos de Bèze with 6.6 acres classified as Premier Cru.
The high altitude vines and rocky, oolithic limestone-rich soils tend to do particularly well in warm vintages (like 2009) where it can maintain fresh acidity. The vines are at the same altitude as much of the Grand Cru of Ruchottes-Chambertain and parts of Latricières-Chambertin but Bel Air is much more heavily shaded by forests and sits on a steeper slope which impacts the amount of direct sunlight the vines receive. Though the most heavily shaded plots are not permitted to Premier Cru classification but rather village level Gevrey-Chambertin.
As with a lot of Burgundy, it is hard to know exactly how many growers own pieces of a particular vineyard. Matt Kramer's 1990 book Making Sense of Burgundy, list 11 owners with the family of Jean-Claude Boisset owning the largest segments with 1.5 acres. Domaine Taupenot-Merme's 0.9 acre holdings in the Premier Cru were mostly planted in 1973 and produce around 205 cases of wine.
On WineSearcher.com, you can find several offerings of Bel Air Gevrey-Chambertin from producers like Domaine de la Vougeraie (ave price $73), Philippe Pacalet (ave price $123) and Domaine Philippe Charlopin-Parizot (ave price $79).
The Wine

Medium intensity with pop and pour. A mix of red and dark fruits with a tinge of sweet baking spices like cinnamon and allspice. Tossed in a decanter and after an hour, WOW! The aromatics jack it up to high intensity with the fruit becoming more defined as a mix of dark plums and red cherries. The spice is also more pronounced and is joined with a floral earthy component, like walking through a botanical forest.
On the palate there is silkiness to the mouthfeel with the ripe tannins but medium-plus acidity keeps it feeling very fresh. The fruit carries through but the spice notes get a little more quiet as the floral earthy notes come to the forefront and linger for a very long finish.
The Verdict
This is a wine with a lot of layers and while it was drinking gorgeously, I can't help but feel like I opened it up too young. It probably has the legs to keep on developing for another 5-7 years easily.
The wine is averaging around $108 on WineSearcher.com but I was able to pick it up at a local wine shop for $90. That is a screaming deal for how scrumptious this Burg is drinking and I'm sincerely regretting not buying more. Even at $108, it is a very compelling bottle and one of those wines that screams "Yes, this is what high quality Burgundy is about!"
If you can find this bottle, nab it.
Subscribe to Spitbucket