Some quick thoughts on the 2008 Ferrari Perlé sparkling wine from the Trento DOC.
The Geekery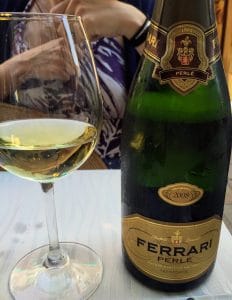 Tom Stevenson and Essi Avellan describes Ferrai in the Christie's World Encyclopedia of Champagne & Sparkling Wine as the "Rolls-Royce" of Italian sparkling wine and note that due to its massive popularity in its home country, only around 10% of the winery's yearly 420,000 cases get exported.
Founded in 1902 by Giulio Ferrari, who spent some time working in Champagne, Ferrari was the first producer to use the traditional method (metodo classico) for Chardonnay in Italy. In 1952, the estate was purchased by Bruno Lunelli with his grandchildren running Fratelli Lunelli Ferrari today.
In 2017, Ferrari was named Sparkling Wine Producer of the Year at The Champagne & Sparkling Wine World Championships, a honor that often goes to Champagne houses like Roederer.
The 2008 Perlé is 100% Chardonnay sourced from estate vineyards in the Trentino region. After the Franciacorta DOCG, the Trento DOC is the second largest producer of Italian metodo classico sparkling wines.
The wine was disgorge in 2015 after spending over 6 years aging on the lees and bottled with 6-8 g/l dosage. In addition to the sugar, the liqueur d'expedition includes some "select wines" which Ferrari describes as a "family secret".
The Wine
High intensity nose. Lemon custard and pastry dough. Some floral and spice elements are also present. Very evocative.
The mouthfeel is very creamy with noticeable yeasty, bready flavors. The citrus lemon notes are still present but seems like more apple pastry tart on the palate. The wine also has ample acidity with some savory salty minerality adding complexity.
The Verdict
This is a pretty stellar bottle for around $30-35. This wine's been aged like a vintage Champagne but is priced better than most non-vintage Champagnes!
The complexity you get for the money is certainly outstanding and I would put this toe to toe with $60-75 Champagnes any day of the week. As noted above, not a lot of this makes its way to the US but if you can find a bottle, grab it!
Subscribe to Spitbucket