A few quick thoughts on the 2011 Ceja Vineyards Pinot noir from Carneros.
The Geekery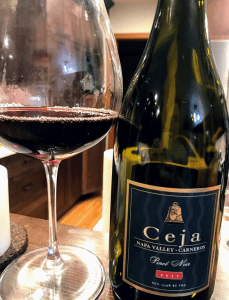 Ceja was founded in 1999 by first generation Mexican-Americans Amelia Ceja, her husband Pedro, Pedro's brother Armando and his wife Martha. The roots of Ceja Vineyards dates back to 1983 when the Cejas purchased 15 acres in Carneros. Planted with vines in 1986, the vineyard eventually expanded to 115 acres. For years, the Cejas sold their fruit to local wineries. Even after establishing their winery, Ceja still sells around 85% of their fruit. However, the plots are kept for the winery's 10,000 case production.
They practice sustainable viticulture with Ceja Vineyards winning a California Green Business Award in 2017. Also in 2017, Amelia Ceja was honored as the first and only Mexican-American woman to own a winery at the Smithsonian National Museum of American History's Winemakers Dinner.
Located on the Napa side of the Los Carneros AVA, Jancis Robinson and Linda Murphy in American Wine describe Ceja as one of the "Steady Hands" in Carneros. Along with Truchard Vineyards, Schug and Gloria Ferrer, Ceja is noted for consistently producing reliable wines.
While the topic of high alcohol in California Pinot noir is contentious, Ceja regularly keeps their wines under 14%. This 2011 Pinot clocks in at 13.9%
The Wine
High intensity nose. Rose petals, red cherries, spice and fresh forest floor earthiness. Not that dissimilar from a Beaune Pinot noir.
On the palate, the red fruit and spice carries through with medium-plus acidity adding mouthwatering juiciness. The earthiness is present but takes a back seat to the fresh fruit though it re-emerges on the long finish. Medium tannins and medium body add nice balance.
The Verdict
Very beautiful Pinot noir that is quite enjoyable on its own but would truly shine on the table. The combination of balance, mouthwatering acidity and complex flavors gives it flexibility to pair with a variety of dishes.
This Ceja Pinot is well worth the $35-45 retail and definitely shines among its Carneros peers.
Subscribe to Spitbucket