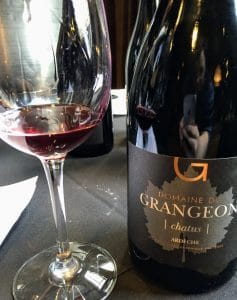 Going to need more than 60 Seconds to geek out about this bottle of 2012 Domaine du Grangeon Chatus from the Ardèche.
The Grape
Jancis Robinson notes in Wine Grapes that Chatus is a very old variety that was first mentioned by Olivier de Serres in 1600 as being one of the best wine grapes in the Ardèche. For the next couple centuries, the grape enjoyed widespread planting from the Massif Central to the Drôme, Isère and Savoie and even across the Alps to the foothills of Piedmont before phylloxera dramatically reduced its numbers.
Even after the threat of phylloxera passed with rootstock grafting allowing Vitis vinifera varieties to be reintroduced, Chatus struggled to gain much traction even inside its home territory of the southern Ardèche. By 1958 there were around 371 acres in all of France though that number would drop to only 141 acres by 2006. Here is often blended with Syrah.
DNA analysis has shown that Chatus likely originated in the Ardèche region where one of its parent grapes may have been the near extinct variety Pougnet. It crossed at some point with Gouais blanc (parent of Aligoté, Chardonnay, Gamay, Melon de Bourgogne and many more varieties) to produce Sérénèze de Voreppe.
DNA profiling also showed that the grapes previously identified as Neiret and Nebbiolo di Dronero growing in the alpine foothills of western Piedmont were actually Chatus. In the 1930s, the grape breeder Giovanni Dalmasso at the Istituto Sperimentale per la Viticoltura in Conegliano used what he thought was Nebbiolo as a parent variety in the development of several new grapes. The cuttings he used turned out to be Chatus which makes it a parent grape to several varieties such as Albarossa, Cornarea, Nebbiera, San Michelle and Soprega (with Barbera as the other parent) as well as Passau, San Martino and Valentino nero (with Dolcetto).
Chatus' confusion with Nebbiolo can also be seen in the type of wines that the small-berried variety produces with the wines having ample acidity, high tannins and an affinity for absorbing the flavors of oak. One significant difference between the two varieties is that Chatus tends to produce more deeply colored wines than typical of Nebbiolo.
Outside of France, Chatus is still grown in Piedmont in regions like Pinerolo, Saluzzo and Maira Valley where it is often blended with Avanà, Barbera, Neretta Cuneese, Persan and Plasa.
The Winery
After serving as cellar master for the notable Condrieu producer Georges Verney, Christophe Reynouard returned home in 1998 to take over his family's estate in the village of Rosières in southern Ardèche.
In addition to the very rare Chatus, Domaine du Grangeon also grows Syrah, Cabernet Sauvignon, Merlot, Gamay, Viognier and Chardonnay on their 42 acres of vineyards. All the vineyards are farmed sustainable with no chemicals used in the vineyard.
For the 2012 Chatus, the grapes were harvested from the family's vineyard in Balbiac which is made up of granite topsoil on top of sandstone. After fermentation and malolatic fermentation, the wine spent 24 months in new French oak. Only around 4500 bottles were produced.
The Wine
Medium intensity nose. Spice, lots of spice. There is a bit of Syrah like black pepper spice with earthy tobacco Nebbiolo spice followed by oak spice. Underneath the spice is a mix of dark berry fruit with some slight floral element.
On the palate, the oak takes center stage with round vanilla notes tempering the medium-plus acidity and medium-plus tannins. The dark fruits still carry through but are even harder to pick out on the palate under the oak. The spice notes from the nose also get a bit muted but seem to reemerge for the moderate length finish.
The Verdict
At around $25-30, you are certainly paying a premium for the uniqueness of this grape variety and its scarcity. It has some character and I would be very intrigued to try an example that didn't have as much overt oak on it.
Subscribe to Spitbucket