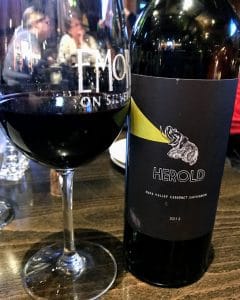 A few quick thoughts on the 2012 Mark Herold Brown Label Napa Valley Cabernet Sauvignon.
The Geekery
Mark Herold got his start in the wine industry as a research enologist for Joseph Phelps before founding Merus in 1998 in his garage with his then wife, Erika Gottl. Jim Gordon notes in Opus Vino, that over the next 10 years Herold turned his small 1500 case production of Merus into one of the most acclaimed wines in Napa. In 2007, Merus was sold to Foley Wine Group with Herold leaving the following year as Camille Benitah and Paul Hobbs took over winemaking.
After leaving Merus, Herold continued consulting at estates like Buccella, Celani Family, Kamen, Kobalt, Harris, Hestan and Maze. As part of a divorce settlement and non-compete, he agreed not to make any Cabernet Sauvignon under his own label until 2010.
According to Barnivore, Mark Herold Wines are vegan-friendly. The 2012 Brown Label is 100% Cabernet Sauvignon with around 575 cases made.
The Wine
Medium-plus intensity nose. Lots of sweet oak spices and vanilla. Rich dark fruit–currants, blackberries. There is also a smokey, roasted coffee element to the nose as well.
On the palate, the wine is very big and full-bodied with medium-plus acidity and medium-plus tannins. The dark fruits carry through but the oak still dominants with the vanilla adding a lushness that rounds out the tannic edge. I wished the coffee note carried through with the smokey element instead being more toasted wood on the palate instead of roasted coffee. Moderate length finished.
The Verdict
The 2012 Mark Herold Brown Label falls in line with your classic big, bold Napa Cabs that have noticeable oak. Though while it does have rich dark fruit and vanilla lusciousness, it is a bit better balanced than most of its peers with the tannins keeping it from being sweet and the acidity bringing freshness.
At around $95-110, it is very much in line with wines from estates like Cakebread, Silver Oak, Frank Family and Stag's Leap Wine Cellars.
Subscribe to Spitbucket