A few quick thoughts on the 2010 Gifford Hirlinger Malbec from Walla Walla.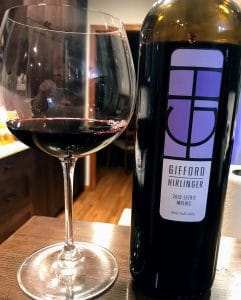 The Geekery
Gifford Hirlinger was founded in 2001 by Mike and Melissa Berghan. The name Gifford Hirlinger comes from joining the surnames of relatives who settled in Walla Walla in the 1800s. The Berghans purchased a vineyard with the original goal of only selling grapes to nearby wineries. However, they soon found themselves bitten by the winemaking bug with their first vintage released in 2003.
In Washington Wines, Paul Gregutt describes Gifford Hirlinger as an "under-the-radar, soon-to-be-rising" star in Washington, noting their focus on estate-grown fruit.
The 2010 estate Malbec comes from a 1.38-acre block of their sustainably farmed Foggy Vineyard (GH-1), which is one of 3 estate vineyards of Gifford Hirlinger–Stephanie Marie (GH-2) and MarieGlen being the other two.
Located right on the border of Washington and Oregon, along Stateline road (the namesake of a blend that Gifford Hirlinger does that frequently features Malbec), the soils of the vineyard are a mix of coarse and fine silt loams.
The wine spent 18-23 months aging in 50% new oak with around 100 cases made.
The Wine
Medium intensity nose. A mix of dark fruits that aren't very defined with much more dominant black pepper spice and forest-floor earthiness.
On the palate, those dark fruits come through and get a little more defined as dark berry notes. The black pepper spice is still prevalent and plays well with a dark chocolate element that emerged. Medium-plus acidity still has some freshness that is much needed to balance the weighty dark fruit. Medium tannins at this point are smooth and silky.
The Verdict
This wine is holding up pretty well for a 7+-year-old fruit-forward Malbec. It's clear that it is a little past its peak, but the pepper spice notes and fresh acidity give it some character.
At $32-36, you are paying for the premium of a Walla Walla estate Malbec compared to Argentina, but this is a well-made example.
Subscribe to Spitbucket