A few quick thoughts on the Tullamore DEW Caribbean Rum Cask Finish XO Irish Whiskey.
The Geekery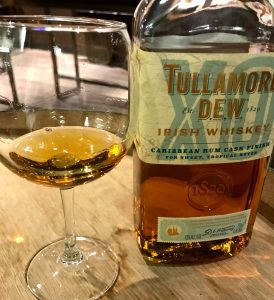 This expression of Tullamore DEW is a blend of triple distilled malt, grain and pot-still whiskeys that have been finished in first-filled Demerara rum casks from Guyana. Compared to other Caribbean rum, Demerea rum tends to be more full-bodied in flavor with more savory and smokey characteristics.
There is only one distillery in Guyana, the Diamond Distillery of Demerara Distillers Limited, which makes rums under numerous labels they own or in partnership with other companies such as Pyrat and El Dorado. Pusser's uses Demerara rum and blends it with other Caribbean rums for many of their bottlings.
First released by Tullamore DEW in October 2017, this whiskey was inspired by the more than 50,000 Irish immigrants who settled in the West Indies during the 16th and 17th centuries and participated in the Caribbean rum trade.
The Whiskey
High intensity nose. This really smells like an El Dorado rum–and startlingly so. Big tropical fruits (particularly banana), honey, vanilla and spice.
On the palate, those same rum notes carry through but underneath you can finally make out some of the typical caramel, toffee and apple notes of regular Tullamore DEW whiskey. It holds it 43% ABV well with the vanilla contributing to a smooth mouthfeel. It finishes much drier than you would expect from how sweet the nose is.
The Verdict
The temptation is to compare this to Balvenie's 14 year Caribbean Cask but they couldn't be more different. For one, the "rum character" of the Balvenie plays more of a secondary, rather than dominating role as it does with the Tullamore DEW.
At around $30, you're only paying about a $5-7 premium over the regular expression. This is definitely a whiskey I would recommend more for rum drinkers wanting to branch out than whiskey drinkers.
Subscribe to Spitbucket