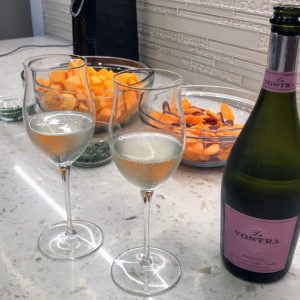 Here is what I'm reading today in the world of wine.
Interesting Tweets and Weblinks
Wine prices to rise as bad weather brings worst harvest for 50 years by Zoe Wood (@zoewoodguardian) of The Guardian (@guardian). Brought to my dash via John Corcoran (@jncorcoran1).
2017 was pretty much a rough vintage across the globe with yields hitting some of the lowest levels seen in over 50 years. The Drinks Business had a particularly eye-opening chart about just how low crop levels were in Bordeaux.
There is going to be consequences to what has been called "The worst global harvest since 1961" with the most immediate being seen in increased prices for early release wines such as sparkling Prosecco and white wines like Pinot grigio.
Now this article is written from a UK POV and for US consumers, I don't think the situation is quite as dire. As we noted in the 3/6 edition of Geek Notes, the 2017 vintage in Washington was actually the second largest in state history. While there was some bumpiness in Oregon and California, for the most part the major wine producing areas of the US emerged from 2017 in good shape.
That said, this article is still helpful for US wine drinkers to consider because we will likely see higher prices for European wines–particularly Prosecco and Rioja–simply because there will be less supply. Especially with Prosecco's continued and sustained popularity, sparkling wines fans are going to have to pay the piper of market demand. Now instinct would think that Cava would be the beneficiary of Prosecco consumers looking elsewhere but, like Rioja, the Cava DOs had their issues in 2017.
Perhaps producers in the budding Oregon sparkling wine industry will capitalize on this moment with introducing value priced bubbles?
Young Red Wine, Wise Red Wine by Meg Houston Maker (@megmaker) of Terroir Review. Brought to my dash via Vino101 (@Vino101net).
Every year the market sees a flood of brand spanking new wines emerge for people to enjoy. But the thing is, a lot of these new wines simply aren't ready to be enjoyed yet.
Still these fresh-faced, juvenile wines are sent to critics to be reviewed and to wine shops to be put on the shelf as soon as the previous vintage is sold.
In many ways, it is unfair to judge these wines critically and Meg Houston Maker goes through the process of what it is like as a critic trying to play prognosticator of a wine's future.
Meg's post has particular resonance for me after finishing my 60 Second Review of the Oh-So-Young-But-Potentially-Oh-So-Good 2016 Hedges In Vogue Cabernet Sauvignon. At around $30 for a Red Mountain Cab from a top producer, it certainly looks like it could be an absolute steal of a wine that may be worth stocking up on. But it just so young right now and while my gut instinct feels like its going to develop into something magnificent, at this point it is just what Houston Maker says–an exercise in prognostication.
Something fun to get your Geek-on!
Via Reddit, I discovered this cool Instagram account featuring Wine Study Flashcards. There are over 150 flashcards so far, covering a variety of topics and the account looks to be fairly active with periodically adding new flashcards.
Subscribe to Spitbucket