A few quick thoughts on the Insito Extra Brut Cava made by Bodegues Sumarroca.
The Geekery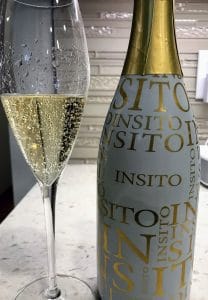 The Sumarroca family originally hailed from Llimiana, in Pallars Jussà in Catalonia, but moved to the Penedès region in the 1980s when they purchased the Molí Coloma estate in Subirats.
By 1983, Bodegues Sumarroca was producing sparkling Cava. The family's holdings expanded greatly in 1999 when they bought the Cava house of Marquis of Monistrol–gaining nearly a 1000 acres of vineyards in the prime sparkling wine terroir around the village of Sant Sadurni d'Anoia.
The Insito Cava is sometimes sold as "In Situ" in other markets (from the Latin phrase meaning "on site") and refers to the Sumarroca's family philosophy of only using estate grown fruit instead of supplementing with purchased fruit like many of the larger Cava houses.
Made in an Extra Brut style with less than 3 g/l sugar dosage, the wine is a blend of nearly equal amounts of Macabeu, Xarel·lo and Parellada that was aged 16 months prior to disgorging.
The winery is ISO 9001:2008 certified and practices sustainable viticulture.
The Wine
High intensity nose. A mix of citrus fruit and some pastry dough toastiness. There is also a white floral element.
On the palate this sparkler has a very lively mouthfeel with the zesty citrus notes becoming more defined as lemon. With the toastiness carrying through and the heavy weight of the mousse this Cava has me thinking of lemon cream cheese danishes. Impeccably well balanced for an Extra Brut, the wine is dry and citrus without being tart. The white floral notes come back for the moderate length finish but still aren't very defined.
The Verdict
At around $15-18 this is an outstanding sparkling wine for folks who are craving something drier than Prosecco (and many American sparklers) but more complex than your typical Cava.
I wouldn't use this as a "mixer bubbles". It's certainly worth savoring with dinner and on its own.
Subscribe to Spitbucket