A few quick thoughts on the NV Ruinart Brut Champagne.
The Geekery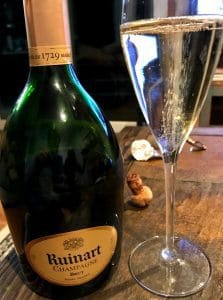 While I love geeking out over grower Champagnes, I must confess to having a soft spot for Ruinart. While frequently lost in the LVMH (Louis Vuitton Moët Hennessy) portfolio of mega-brands like Moët & Chandon, Veuve Clicquot and Dom Perignon, the quality of this house has always been top-notch.
I reviewed the Ruinart Blanc de Blancs and Rosé over a year ago in my post A Toast to Joy and Pain where I give some background about the house and also note the apt description by the LVMH Brand Ambassador that Ruinart is the "best prestige house that most people haven't heard of."
Tom Stevenson and Essi Avellan note in Christie's World Encyclopedia of Champagne & Sparkling Wine that Nicolas Ruinart, who founded the estate in 1729, was the nephew of Dom Thierry Ruinart who was a close friend of Dom Perignon.
The Ruinart Brut (also known as 'R' de Ruinart) is a blend of 49% Pinot noir, 40% Chardonnay and 11% Pinot Meunier. The wine usually includes 20-25% reserve wines from older vintages. It is aged for around 36 months before being bottled with a dosage of 9 g/l.
The Wine
Medium-plus intensity nose. Noticeable toasty bread dough with baked pears and almond shavings. This wine smells like you are in a French bakery.
On the palate those pear and doughy notes come through but also bring a spice element of cinnamon and allspice. Very weighty and mouth-filling with a silky mousse. This Champagne feels like a meal in itself. Well balanced with the dosage though I wished it was tad drier. An intriguing white floral element emerges on the long finish to go with the lingering toastiness.
The Verdict
While not quite to the level of Ruinart's Blanc de Blancs and Rosé, this is still a phenomenally well made Champagne.
At around $55-65, it is a bit of a bump from your basic Champagnes like Veuve and Moët but the quality jump is significant.
Subscribe to Spitbucket