A few quick thoughts on the 2010 Paola Lanzavecchia Essentia blend from Alba.
The Geekery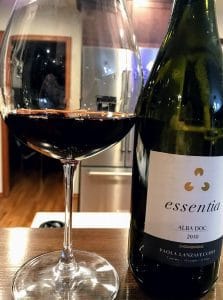 Paola is a third generation winemaker in the Serralunga d'Alba region of Piedmont, following in the footsteps of her father, Daniele, and grandfather, Pietro Lanzavecchia, who founded the family estate in 1959.
A graduate of enology and agriculture from the University of Turin, Paola Lanzavecchia assists her father with the family's Villadoria wines while also making wines under her own label.
Kerin O'Keefe notes in Barolo and Barbaresco: The King and Queen of Italian Wine, that while Lanzavecchia is on a "perennial quest to raise the bar on quality" she still sticks to mostly traditional winemaking methods.
The 2010 Essentia is a blend of 80% Nebbiolo, 15% Barbera and 5% Merlot. While the Nebbiolo is harvested normally, the Barbera and Merlot are allowed to partially desiccate on the vine prior to harvest. It's a treatment kind of between a super ripe late harvest Napa and letting the grape fully dry out like Amarone.
The wine is aged for 9 months in 2nd and 3rd year French oak barrels.
The Wine
High intensity bouquet. Pop and pour there is a gorgeous mix of flowers (both fresh and dried rose petals) with tobacco spice. With some air the red cherry and plum notes come out.
On the palate those cherry notes become more pronounced and are noticeably juicy with the medium-plus acidity–like fresh Rainier cherries. Medium-plus tannins have a soft edge to them but amply hold up the full-bodied weight of the fruit. A little star anise spice joins the tobacco spice, adding more layers. The long mouthwatering finish brings back the rose petals.
The Verdict
Beautiful wine that more than merits its $27-33 price tag. It has a lot of character and elegance of a beautiful Barolo but the "super-ripe" Barbera and Merlot add fruity softness to balance Nebbiolo's notoriously high tannins and acidity.
It's drinking exceptionally well now but I can see this continuing to deliver pleasure for another 3-5 years.
Subscribe to Spitbucket