Going to need more than 60 Seconds to geek out about the 2014 Domaine Henri Gouges Nuits-St.-Georges 1er Cru La Perrière–a white wine made from a unique mutation of Pinot noir.
The Background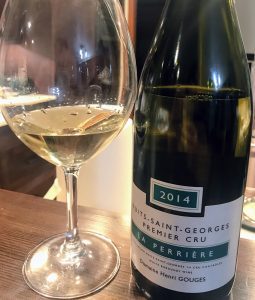 Remington Norman and Charles Taylor notes in The Great Domaines of Burgundy that Henri Gouges started his domain in the early 1920s with the purchase of around 22 acres in Nuits-St.-Georges. During the economic slump of the 1920s and 1930s, Gouges continued to take advantage of depressed vineyard prices. He was able to greatly expand the domaine choice parcels from several esteemed premier crus.
In the early 1930s, when concerns about rampant fraud and mislabeling was taking a toll on Burgundy prices, Gouges joined the Marquis d'Angerville and Armand Rousseau to rebel against the négociant houses by estate bottling all his domain wines.
Clive Coates described Henri Gouges, in The Wines of Burgundy, as the "Doyen of Nuits-St.-Georges" whose lasting influence in the commune has been far reaching. He was elected mayor several times.  In the 1930s when the Institut National d'Appellation d'Origine (INAO) was establishing the classification of Burgundy's vineyard, Gouges represented the interests of Nuits-St.-Georges on the regulatory committee.
It is believed that because Gouges was a major owner of the famed Les St-Georges vineyard, and would have benefited greatly if that vineyard was classified as a Grand Cru, he wanted to avoid any potential conflicts of interest by advocating against any Nuits-St.-Georges vineyard being singled out as a Grand Cru. Instead, the committee awarded the commune 41 premier crus.  After Beaune's 42 premier crus, this was the highest concentration of premier crus in the Côte d'Or .
Domaine Style
The domaine has long been a proponent of "traditional" and "natural viticulture" techniques–eschewing the use of chemicals when possible. In the vineyard, they prefer massale selection of vine cuttings instead of clonal propagation. Gouges' grandson, Pierre, pioneered the use of ryegrass cover crop in the commune to curb erosion and encourage competition for the vine roots to find resources. Since 2008, all the domain's vineyards have been farmed organically.
The Grape
The story goes that Henri Gouges was inspecting his Pinot noir vines in Nuits-St.-Georges 1er Cru La Perrière in late summer in the 1940s when he came across a vine that had all white clusters post-veraison. Intrigued, he cut off a branch of the vine and propagated to see if the new "Pinot noir" vine would also produce white clusters. It did so Gouges and his descendants continued to propagate the variety now known as "Pinot Gouges" in not only La Perrière but also in the premier cru vineyard (and Gouges monopole) of Clos de Porrets-Saint-Georges.
Is it a "White" Pinot noir or Pinot blanc?
An interesting question and one that I couldn't find a definitive answer for.
Throughout history, Pinot vines have been observed having clusters with different colored berries on them. Sometimes even different colors on the same berry!
The Pinot grape is notorious for its genetic instability with Jancis Robinson's Wine Grapes noting that there are more than a 1000 registered clones. That's just the number of clones we know of. However, ampelographers believe that the mutation rate for Pinot is actually on par with other varieties and instead attribute the vast number of known mutations and genetic variations to the grape's longevity and 2000+ year history.
Even with the many mutations, genetically all the various Pinot varieties (noir, blanc, gris, Meunier, Teinturier, etc) are the same–which to some degree makes the argument of what "Pinot Gouges" is moot.
But the concept of "White Pinot noir" does exist with producers pressing the red Pinot noir grapes quickly to produce a white wine. Used in Champagne for centuries, this method is a popular way to make white sparkling wines from red Pinot noir and Pinot Meunier grapes. When made as still wine, these White Pinot noirs often have a fuller-bodied, weighty fruit with just a tinge of color—traits that bore out in my tasting of the Gouges La Perrière.
Pinot blanc wines tend to be more moderate weight with medium to medium-minus acidity with brilliant clarity and no color–especially when young. While it can often be confused for Chardonnay (like the Gouges wine in my notes below), my experiences with true varietal Pinot blanc vines are just too different from tasting this Pinot Gouges which leads me to considering this a "White Pinot".
The Vineyard
La Perrière is a climat within the Premier Cru vineyard of Les Perrières located south of the village of Nuits-St.-Georges on the slope above the 1er Cru of Les Poirets (Les Porrets). The vineyard used to be a quarry with the name "Perrière" referencing the French term for quarry-workers. The soil is accordingly stony and pebbly.
Several producers have bottlings from this vineyard (all of them red) including Meo-Camuzet (Wine Searcher Ave $148), Louis Jadot (Wine Searcher Ave $134) and Domaine Robert Chevillon (Wine Searcher Ave $95)
The Wine
Medium-plus intensity nose. In a blind tasting, I would be thinking Chardonnay with the tree fruits of apples and pears but there is a lot of spice here–not oak spice but rather exotic spices. I can't quite pinpoint them but it smells like you walked into an Indian restaurant. There is also a white floral element that has me thinking of apple blossoms.
On the palate, there is a lot of weight and texture–things that would indicate new oak except for the complete absence of oak flavors. I also get some roasted hazelnuts which would make me think of an older Burg (like a 5 to 7 year old Meursault) rather than something that is only a little over 3 years old. Medium-plus acidity balances the weight of the fruit well but could be a tad higher. Moderate length finishes ends on the pear and spice notes.
The Verdict
Priced in line with upper-tier Premier Cru white Burgundies, the wine holds it own at the $90-110 range. It's hard not to compare it to a well-made Meursault Premier Cru like Les Charmes and Les Perrières though I think what ultimately separates this Nuits-St.-Georges White Pinot from those crème de la crème Chardonnays is precision and longevity.
While there are lots of layers in this wine, they don't have the crystal clarity and precision of flavors that truly highlight great white Burgs. You could say that develops with bottle age but this relatively young wine already tastes far older than what you would expect with its age. While it is giving considerable pleasure now, I can't see it getting anywhere near the levels of a great Meursault wine from the same vintage 3 years down the road, much less 5 or 15.
Still, this is fascinating and exceedingly character driven wine that is worth seeking out just to experience. From a commune that is 97% red wine (with the entire Côte de Nuits being 95% red), it is truly a unicorn with only around 2000-2500 bottles produced each year.
Subscribe to Spitbucket