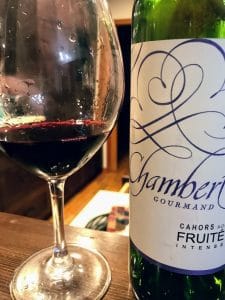 Today is Malbec World Day (Why it isn't World Malbec Day, I don't know) so I thought I would share a few thoughts on the 2012 Château de Chambert Gourmand from the Cahors region of southwest France.
The Geekery
Château de Chambert is a very old estate in Cahors, founded in 1690 by Madamoiselle Lalvallette. In 1857, one of her descendants married into the Bataille family with the estate passing into their care.
The French General Marie Désiré Pierre Bataille, a hero of World War I who died at the battle of Col du Bonhomme, was born at the Chateau.
Today the estate is owned by the Lejeune family who began converting the property to biodynamics in 2007. At around 160 acres, it's the largest certified biodynamic producer in Cahors.
Stéphane Derenoncourt, the notable Bordeaux consultant (of Canon-la-Gaffelière, La Mondotte, Pavie-Macquin and Les Carmes Haut-Brion fame) assists the winemaking.
The Gourmand label is the estate's "bistro wine" and is usually majority Malbec with some Merlot blended in.
The Wine
Medium intensity nose. Red fruit mixed with blue flower notes that aren't very defined. Around the edges is a subtle herbalness.
On the palate those red fruits come through and are more pronounced as cherry plums. A little bit of black pepper spice joins the party with the still undefined herbal notes. Medium-plus acidity seems more tart than fresh and also amplifies the grippy medium-plus tannins. The moderate finish brings back the floral notes but mostly ends with the tart cherry plums.
The Verdict
At around $9-12, this bistro wine is meant to be enjoyed with food and it did pair well with the burger I had it with. But I suspect that it's probably at least 2 years past when it should have been opened as the faded fruit is not enough to balance the acidity and tannins at this point.
Though I would have no qualms with trying a newer vintage as I can see it delivering a fair amount of value.
Subscribe to Spitbucket