A few quick thoughts on the Louis Bouillot Extra Brut Cremant de Bourgogne.
The Geekery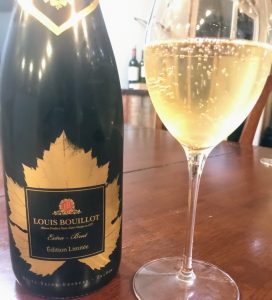 The sparkling wine house of Louis Bouillot was founded in 1877 in the Burgundy wine village of Nuits-Saint-Georges.
Tom Stevenson and Essi Avellan note in the Christie's World Encyclopedia of Champagne & Sparkling Wine that the house owns around 50 acres of vineyards but works with over 70 growers throughout the Côte d'Or as well as in the Côte Chalonnaise, the Mâconnais and Chablis.
Since 1997, the house has been a part of the Boisset Collection along with other notable Burgundian houses like Bouchard Aîné & Fils, Domaine de la Vougeraie, Ropiteau Frères and the California estates of Raymond Vineyards, Buena Vista Winery, DeLoach Vineyards and Lyeth Estate.
The Limited Edition Extra Brut is a blend of Chardonnay, Pinot noir, Gamay and Aligoté. The wine spent 30 months aging on its lees (well above the 9 months minimum required for regular non-vintage Cremant de Bourgogne and 12 months required for NV Champagnes) before being bottled with a dosage of 6 g/l.
The Wine
High intensity nose. A mix of ripe apples and lemons with toasty pastry. There is also a white floral note that adds a sweet smelling element–honeysuckle?
On the palate, the apple notes come through the most and with the toastiness reminds me of a freshly baked apple turnover with some cinnamon spice. Noticeably dry I would have pegged the dosage more in the 3 g/l range. Impeccably well balanced with fresh lively acidity and silky smooth mousse. Long finish brings the lemon notes back with them being more zesty than fruity.
The Verdict
At around $20-25, this is a fantastic sparkling wine that would put many of the grocery store level NV Champagne brands in the $35-45 range to shame. I've long been a fan of Cremant de Bourgogne (and Louis Bouillot in particular–especially their rose sparkler) but this Extra Brut takes it to another level.
Being a limited edition, it will be hard to find but well worth the hunt.
Subscribe to Spitbucket