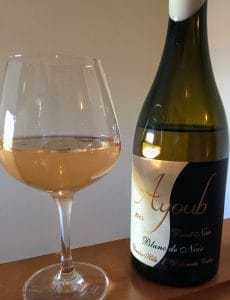 A few quick thoughts on the 2014 Ayoub Blanc de Noir Pinot noir from the Dundee Hills.
The Geekery
Ayoub Wines was founded in 2001 when Mo Ayoub planted 4 acres of vines in the Dundee Hills. The first few vintages of Ayoub were made by Josh Bergström at the Bergström Winery until space was finished at Ayoub's home to accommodate production.
Winemaking was turned over to former Stags' Leap Winery winemaker Robert Brittan (who also makes the wines for Winderlea) and eventually production was expanded from 400 cases a year to around 2000 cases.
The estate vineyard is planted to 5 clones of Pinot noir–667, 777,114, 115, 04. The Blanc de Noir (white Pinot noir) is made by harvesting the red Pinot noir grapes and quickly pressing them to avoid skin contact and color maceration. This style is becoming more common in Oregon with several producers experimenting with different methods (such as harvesting and pressing like Champagne grapes to vin gris production).
The Wine
Medium-plus intensity nose with an intriguing mix of ripe white peach and red plum notes. Very rich and fleshy aromatics with some subtle oak baking spices in the background.
On the palate those rich fruit flavors carry through with very full-bodied weight. However, the ample medium-plus acidity gives its exceptional balance that keeps the palate from being weighed down. The oak notes on the nose become more faint and give way to exotic Asian spices like tumeric, star anise and, particularly, ginger. The long finish lingers on those spices and the red plum notes.
The Verdict
There were a lot of similarities with this Ayoub wine and the Henri Gouges La Perrière White Pinot from Nuits-St-Georges (especially with the exotic spices) and I enjoyed geeking out over both wines.
I won't deny that at $45-55, this is a premium for an Oregon white wine but it's undoubtedly a very character-driven and interesting wine that I would put on par with some of the state's great red Pinots in the same price range.
Subscribe to Spitbucket