A few quick thoughts on the Ardbeg Perpetuum Scotch single malt whiskey.
The Geekery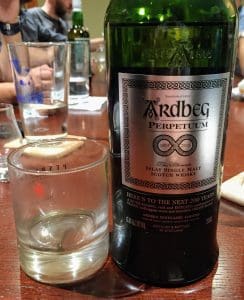 In Whisky Classified David Wishart notes that Ardbeg was founded in 1815 by John MacDougall on the southeast coast of Islay at the site of a popular landing spot for smugglers.
The source of the distilleries' soft water is the nearby Loch Uigeadail. The water flows over peat bogs on the way to the distillery giving Ardbeg peaty water to go with the peated malt.
Today Ardbeg is owned by Louis Vuitton Moët Hennessy (LVMH) where it is part of a portfolio that includes fellow distillery Glenmorangie as well as Belevedere Vodka and Champagne houses Dom Perignon, Veuve Clicquot, Krug and Ruinart.
The Perpetuum was a special limited edition bottling released in 2015 to commemorate the 200th anniversary of Ardbeg's founding. A non-age statement (NAS) whiskey, the Perpetuum is a blend of batches that have been aged in a combination of ex-bourbon and Sherry casks.
The Whiskey
Medium-plus intensity nose. Distinctly iodine and bandages with some earthy forest floor.
On the palate, those medicinal elements give way to a savory meatiness that is very intriguing–like cured salume. Noticeable sweetness on the tip of the tongue suggests some tropical fruit character like bananas. A little on the light side at 47.4% ABV but well balanced with no need to add water or ice.
The Verdict
Full disclosure–I'm not a smokey-peaty whiskey fan in the slightest. I greatly prefer more malt driven whiskies where cereal, fruit and spice notes take center-stage like those of Glenfarclas, Glenmorangie and Balblair–though I can appreciate some elements of salinity and subtle smoke from island whiskies like Talisker and Oban.
That said, while the Ardbeg Perpetuum is too peaty for me, it is a well-made whiskey. It certainly has complexity which would merit its $90-100 price for those who appreciate this style more.
Subscribe to Spitbucket